BELASKASIHAN MEMBEBASKAN DARI PENGHAKIMAN MENURUT YAKOBUS 2:13 DAN IMPLIKASINYA BAGI KEHIDUPAN ORANG PERCAYA MASA KINI
Keywords:
mercy, liberating, winning, judgment
Abstract
Banyak orang percaya yang beranggapan bahwa belas kasihan hanyalah bagi mereka yang membutuhkan atau semua orang percaya. Untuk itu, penelitian ini bertujuan untuk memberi penjelasan tentang belas kasihan yang dibutuhkan oleh setiap orang percaya yang membebaskan seseorang dari penghakiman menurut Yakobus 2:13. Metode yang digunakan yaitu pendekatan analisis teks yaitu fokus pada teks itu sendiri dan dikomparasikan dengan teks kitab lainnya. Hasil penelitian menyatakan bahwa berdasarkan Yakobus 2:13, belas kasihan adalah kunci untuk menang atas penghakiman dari Allah, menyalurkan belas kasihan adalah sesuatu yang terus menerus dikerjakan tanpa henti. Sebagai orang yang telah menerima pengampunan dan belas kasihan Tuhan seharusnya dapat mengampuni sesama tanpa batas. Karena ini bukanlah hukum beban melainkan hukum kasih yang harus dihormati dan dilaksanakan oleh setiap orang percaya sebab bukti dari belas kasihan adalah melakukan hukum Allah, yaitu mengasihi Allah dan mengasihi sesama manusia seperti diri sendiri, karena pada waktu penghakiman orang itu akan dikasihi oleh Allah dan bebas dari penghakiman.
Downloads
Download data is not yet available.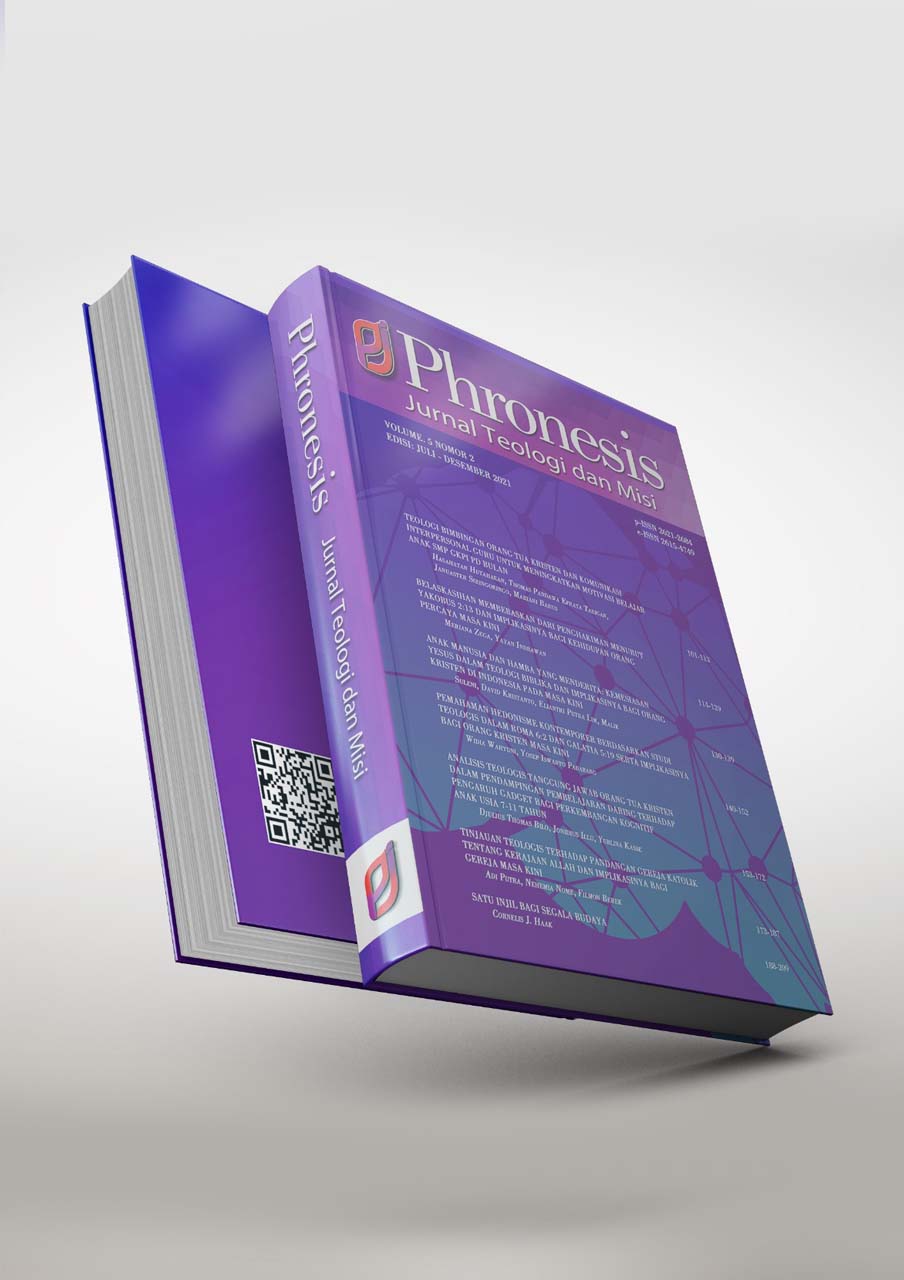 License
Authors who publish with this journal agree to the following terms:
Authors retain copyright and grant the journal right of first publication with the work simultaneously licensed under a Creative Commons Attribution License that allows others to share the work with an acknowledgement of the work's authorship and initial publication in this journal.
Authors are able to enter into separate, additional contractual arrangements for the non-exclusive distribution of the journal's published version of the work (e.g., post it to an institutional repository or publish it in a book), with an acknowledgement of its initial publication in this journal.
Authors are permitted and encouraged to post their work online (e.g., in institutional repositories or on their website) prior to and during the submission process, as it can lead to productive exchanges, as well as earlier and greater citation of published work (See The Effect of Open Access).