ANAK MANUSIA DAN HAMBA YANG MENDERITA: KEMESIASAN YESUS DALAM TEOLOGI BIBLIKA DAN IMPLIKASINYA BAGI ORANG KRISTEN DI INDONESIA PADA MASA KINI
Keywords:
New Testament, Biblical Theology, Messiah, Jesus Christ, Suffering Servant
Abstract
The concept of the Messiah is a complex and often problematic concept for both Christians and Jews to understand. Christian often accept the concept too simplistically to the point of losing sight of the continuity of the concept with the Messianic prophecies in the Old Testament. In contrast to the Christians, the Jwes reject the concept mainly because their Messianic concept is very strong. Related to glory and power but they do not understand theat the Messiah must die even to the point of being crucified to atone for the sins of His people. Using a biblical theology approach. This article argues that the concept of the Messiah in the Bible must be fully understood in terms of the glory and suffering of the Messiah in the Bible. Bear the sin. Two the important biblical concepts for understanding both are the concept of The Son of Man and the concept of the Suffering Servant. In the deen of Jesus Christ, the glory and power of the Son of Man and the role of the Suffering Servant were simultaneously fulfilled through His humiliation on the cross and His exaltation through His resurrection from the dead. For this purpose this article first discusses concerning the Messiah in the Old Testament, the second: the Messiah and the Son of Man, the third: Son of Man and the Suffering Servan, and then concludes with a conclusion.
Downloads
Download data is not yet available.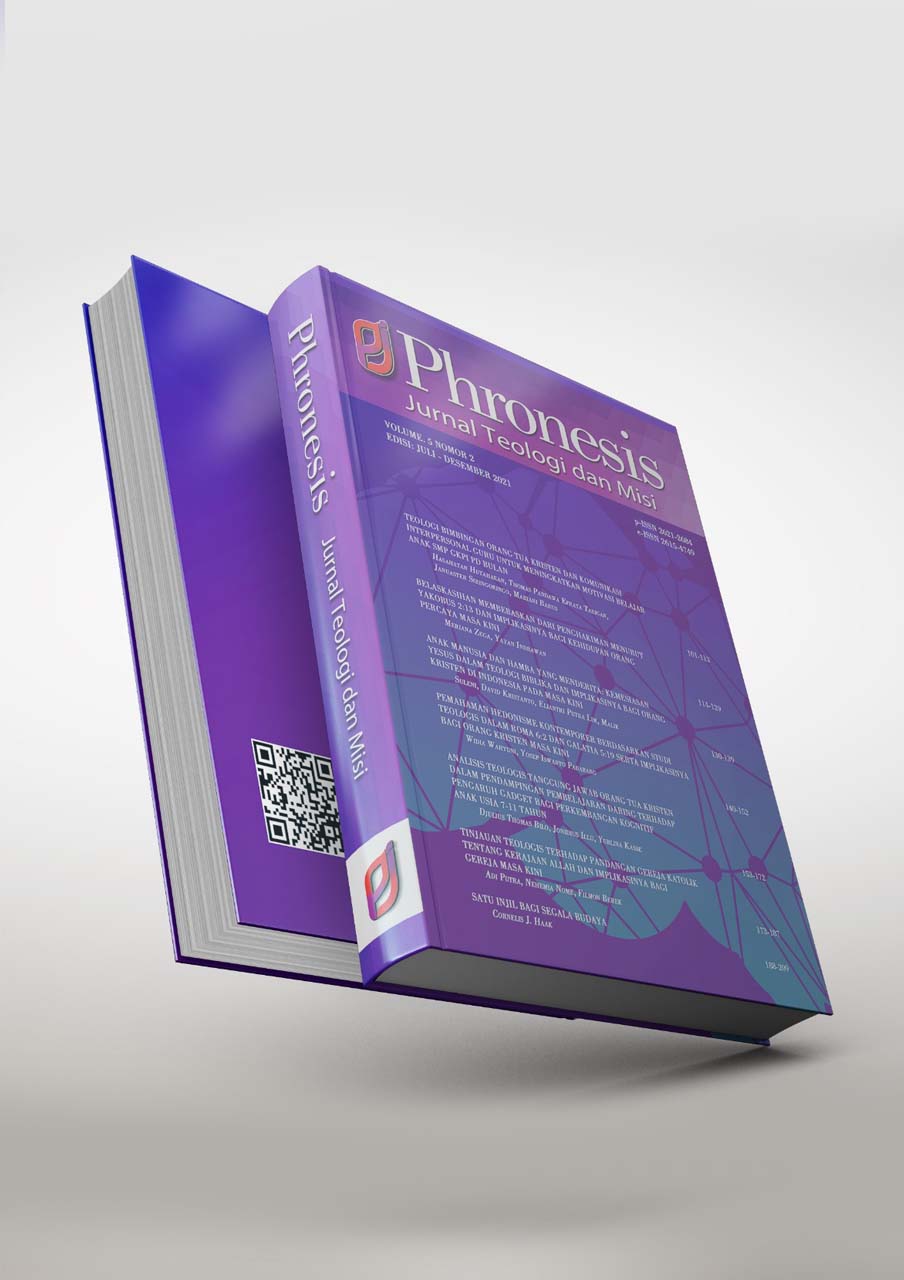 License
Authors who publish in Phronesis: Jurnal Teologi dan Misi agree to the following terms:
1. The author holds the copyright and grants to the journal the right of first publication of the work simultaneously licensed under a Creative Commons Attribution-ShareAlike 4.0 License, which allows others to share the work with an acknowledgment of the work's authorship and initial publication in this journal.
2. Authors may make additional separate contractual arrangements for the non-exclusive distribution of the published journal version of the work (for example, posting it to an institutional repository or publishing it in a book) with acknowledgment of its initial publication in this journal.
3. Authors are permitted and encouraged to post their work online (for example, in institutional repositories or on their websites) before and during the submission process, as this can result in a productive exchange, as well as earlier and larger citations of the published work (See Effects of Access Open).