PEMAHAMAN HEDONISME KONTEMPORER BERDASARKAN STUDI TEOLOGIS DALAM ROMA 6:2 DAN GALATIA 5:19 SERTA IMPLIKASINYA BAGI ORANG KRISTEN MASA KINI
Keywords:
Lifestyle, Hedonism, Believers
Abstract
Searching for happiness in life is something that is always coveted by everyone, but in seeking and finding it someone needs to be guided and encouraged by the right motivation, so that the happiness obtained can be enjoyed properly, not to satisfy the desires of the flesh which ultimately makes the human being. perish with this world. As taught in the Bible that humans should always live to seek and please God, but in reality what is seen today is, there are so many people who live looking for happiness to satisfy their desires not God's desires. Then what about the life of Christians today? The author uses descriptive qualitative methods, while related to theological studies in relation to the hedonistic lifestyle, the authors relate descriptive qualitative research in the context of phenomenology with qualitative methods that are library research. Which is to analyze the content of meaning contained in a narrative or text, in relation to the Scriptures, the author uses narrative analysis. And in the end it can be concluded that believers should always live according to God's will, which is to do things that show love for God. and abstain from Deeds that originate from the desires of the flesh. and always pursue eternal happiness not temporary happiness taught in hedonism.
Downloads
Download data is not yet available.
References
B.D. Bartruff. Menjadi Pribadi Yang Di Kedendaki Tuhan. Jakarta: Gunung Mulia, 2005.
Bob Hostetler. Hidup Kudus. Bandung: Yayasan Kalam Hidup, 2002.
Ch. Suryanti. "Agama Dan Iptek: Refleksi Dan Tantangannya Dalam Mengembangakan Moralitas Anak Muda." Orientasi Baru 19, no. Agama dan IPTEK (2010): 155–170.
Creswell, John W. Research Design, Pendekatan Metode Kualitatif, Kuantitatif, Dan Campuran. 4th ed. Yogyakarta: Pustaka Pelajar, 2016.
Ben Elliott. Tetap Teguh. Bandung: Kalam Hidup, 2015.
Fatia Nur Azizah, Endang Sri Indrawati. "Kontrol Diri Dan Gaya Hidup Hedonis Pada Mahasiswa Fakultas Ekonomika Dan Bisnis Universitas Diponegoro." Jurnal Empati Volume 4 (n.d.): 156–162.
Gertz, Jan Christian, Angelika Berlejung, and Konrad Schmid Markus Witte. Purwa Pustaka, Eksplorasi Ke Dalam Kitab-Kitab Perjanjian Lama Dan Deuterokanonika. 1st ed. Jakarta: BPK Gunung Mulia, n.d.
Harrison, Charles F. Pfeiffer dan Everett F. Tafsiran Alkitab WYCLIFFE. Gandum Mas. Malang, 208AD.
Haryono Makoagow dan Lamsike Pateda. "Pengaruh Gaya HIdup Hedonisme Dan Dampaknya Terhadap Hasil Belajar PAI DI SMAN 1 Pinolosian Kab. Bolaang Monggondow Selatan." Jurnal Pendidikan Agama Islam dan Budi Pekerti 1, no. 2 (2019).
Hendrik Rawambaku. Metode Penelitian Pendidikan. Jakarta: BPK Gunung Mulia, 2015.
Juolanda Tambingon, Femi C.M Tasik, Antonius Purwanto. "Gaya Hidup Hedonisme Mahasiswa Fakultas Ekonomi Dan Bisnis Universitas Sam Ratulangi Di Kota Manado." Fakultas Ekonomi dan Bisnis Universitas Samratulangi Manado, no. Gaya Hidup Hedonisme Mahasiswa (n.d.): 1–8.
Karl Bertens. ETIKA. Jakarta: Gramedia Pustaka Utama, 2004.
Kasali, R. Membidik Pasar Indonesia: Segmentasi, Targetting, Positioning. Jakarta: Gramedia Pustaka Utama, 2008.
Marilyn Hickey. Iman Yang Membuat Doa Terjawab. Yogyakarta: ANDI, 2007.
Metha Nilarisma Dwi, Hatane Samuel. "Pengaruh Gaya Hidup (Lifestile) Harga, Promosi Terhadap Pemilihan Tempat Tujuan Wisata (Destination) Studi Kasus Pada Konsumen Artojaya Tour Dan Travel Surabaya." Manajemen Pemasaran Perta 03, no. 01 (2015): 1–13.
Pandensolang, Welly. Gramatika Dan Sintaksis Bahasa Yunani Perjanjian Baru. YAI Press. Jakarta, 2010.
Peter Garlans. Jangan Menjadi Budak Uang. Jakarta: Penerbit Guepedia, 2009.
Prastiwi, Iin Emi, Tira Nur Fitria. "Budaya Hedonisme Dan Konsumtif Dalam Belanja Online Ditinjau Dari Perpektif Ekonomi Syariah." Jurnal Ilmiah Ekonomi Islam 04, no. 2 (2020): 731–736.
Raja Oloan Tumanggor. "Pemahaman Well-Being Dari Perspektif Filsafat." Jurnal Muara sosial, Humaniora dan Seni 02, no. 01 (2018): 350–358.
Ramadhan Razali. "Perilaku Konsumen: Hedonisme Dalam Perspektif Islam." JESKaPe 04, no. 01 (2020): 115–124.
Ranti Tri Anggriani & Fauzan Heru Santhoso. "Hubungan Antara Gaya Hidup Hedonis Dengan Perilaku Konsumtif Pada Remaja." Gadjah Mada Journal Of Psychology 3, no. Gaya Hidup Hedonis (2017): 131–140.
Sary Listyorini. "Analisis Faktor-Faktor Gaya Hidup Dan Pengaruhnya Terhadap Pembelian Rumah Sehat Sederhana." Administrasi Bisnis Universitas Briwijaya Malang 01, no. 01 (2012): 12–24.
Sigit Wibawanto. "Gaya Hidup Hedonisme Terhadap Perilaku Pembelian Di Pasar Modern." Fokus Bisnis 15, no. 01 (2016): 54–71.
Suhandhy Susantio. Sendirian Dengan Allah. Bandung: Yayasan Kalam Hidup, 2004.
Trimiarti, Novita. "Studi Kasus Tentang Gaya Hidup Hedonisme Mahasiswa Bimbingan Dan Konseling Universitas Ahmad Dahlan." Psikopedagogian Vol.3 (2014): 20–28.
Yayasan Komunikasi Bina Kasih. Tafsiran Alkitab Masa Kini 3. Inter-Vers. London, 2013.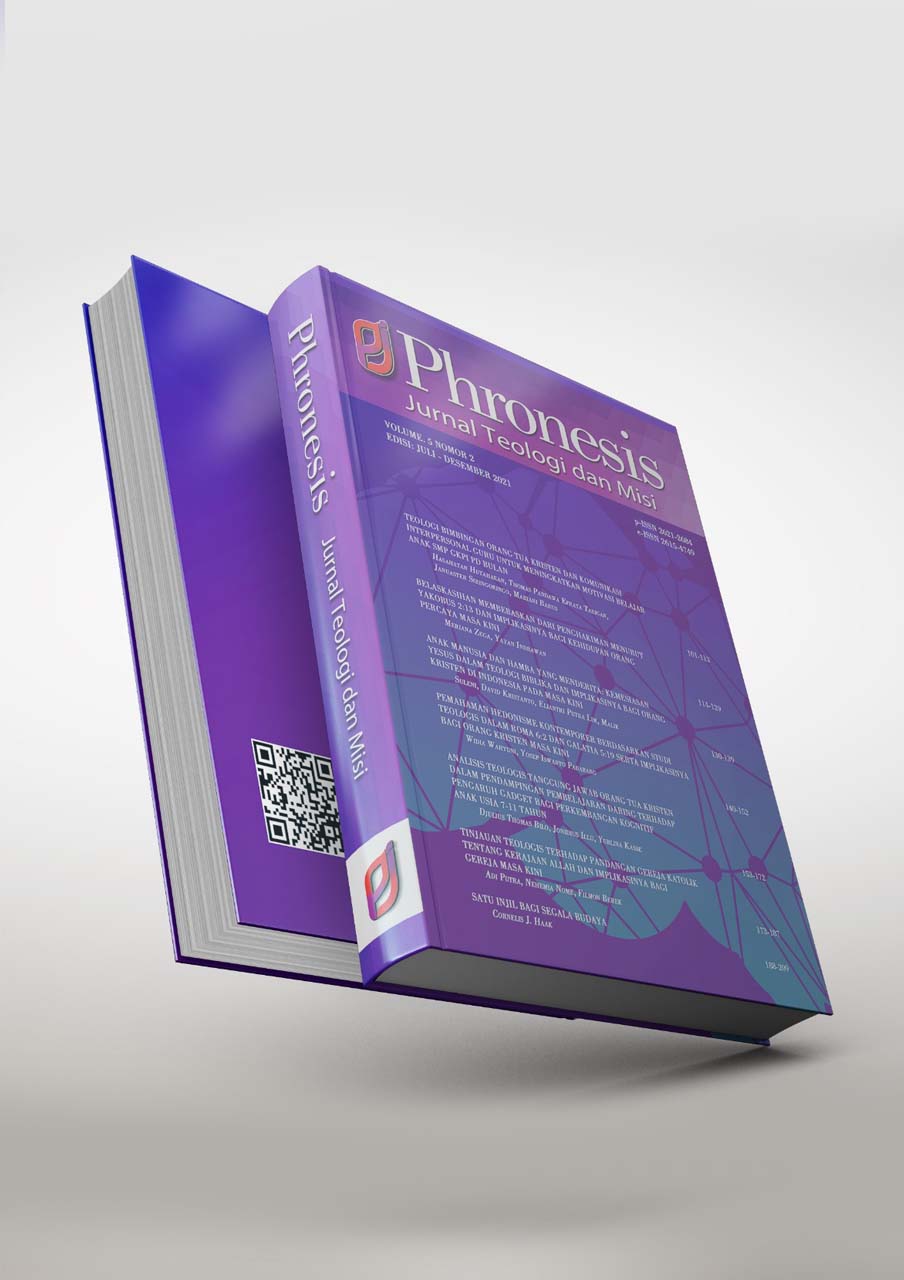 License
Authors who publish in Phronesis: Jurnal Teologi dan Misi agree to the following terms:
1. The author holds the copyright and grants to the journal the right of first publication of the work simultaneously licensed under a Creative Commons Attribution-ShareAlike 4.0 License, which allows others to share the work with an acknowledgment of the work's authorship and initial publication in this journal.
2. Authors may make additional separate contractual arrangements for the non-exclusive distribution of the published journal version of the work (for example, posting it to an institutional repository or publishing it in a book) with acknowledgment of its initial publication in this journal.
3. Authors are permitted and encouraged to post their work online (for example, in institutional repositories or on their websites) before and during the submission process, as this can result in a productive exchange, as well as earlier and larger citations of the published work (See Effects of Access Open).