SATU INJIL BAGI SEGALA BUDAYA
Keywords:
guilt culture, shame culture, fear Culture, (re-) contextualization, tri-cultural theological concepts, covenant theology
Abstract
This article explains the need the development of Reformed theology so that it can attract the attention of different cultured people with Guilt Culture. It turns out the gospel applies to all cultures, but theology of Reformed raises Luther's question that is looking for an answer about the basis of salvation. Even though it strongly agreed that the Bible was teaching that it was dismissed by justification through faith, but the recognition of  'Sola Fide' did not contain the overall gospel. Therefore, the meaning and impact of the gospel should be presented to a shame culture and a fear culture (Fear Culture) in more suitable to the questions and struggle that contexts. if characteristic every culture is more regularly understood, it can also read the Bible and the teachings of the gospel with 'lens' which are more in line with those cultural needs. With this the good news of the Gospel will get stronger to convince the listeners of the gospel.
Downloads
Download data is not yet available.
References
Beech, Geoff. "Shame/Honor, Guilt/Innocence, Fear/Power in Relationship Contexts." International Bulletin of Mission Research 42, no. 4 (2018): 338–346.
Boersema, Tj. Het Evangelie Opnieuw Ontdekt: De Betekenis van Luther Voor de Reformatie van de Kerk. Groningen: De Vuurbaak, 1983.
Brecht, Martin. "Martin Luther (1483-1546)." In Theologische Realenzyklopädie, Vol 21, edited by I. Leben. German: De Gruyter, 1991.
Burger, Hans. "'Evangelipresentatie En de Structuur van de Belijdenis." Radix 27, no. 3 (2001): 170–190.
Cozens, Simon. "Shame Cultures, Fear Cultures, and Guilt Cultures: Reviewing the Evidence." International Bulletin of Mission Research 42, no. 4 (2018): 326–336.
Georges, Jayson. "From Shame to Honor: A Theological Reading of Romans for Honor-Shame Contexts." Missiology: An International Review 38, no. 3 (2010): 295–307.
———. The 3D Gospel: Ministry in Guilt, Shame, and Fear Cultures. New York, 2016.
Haak, Cornelis J. "Covenant of Grace: Introduction to and Mainlines of the Relationship between God and Man & the Structural Power for Mission." Bahan Ajar. Last modified 2019. https://www.academia.edu/53077389/Covenant_of_Grace_SAAT.
Hiebert, Paul G. Anthropoligcal Insights for Missionaries. 24th ed. Grand Rapids: Baker Academic, 2008.
———. Transforming Worldviews: An Anthropological Understanding of How People Change. Grand Rapids: Baker Academic, 2008.
Kees Haak. "Reformed Means Mission." Last modified 2019. Accessed September 20, 2021. https://www.academia.edu/29362503/Reformed_means_mission.
Lau, Sin Wen, Philip Fountain, and Derrick Lemons. "Anthropological Theologies : Engagements and Encounters." The Australian Journal of Anthropology 24, no. II (2014): 227–234.
Merz, Johannes. "The Culture Problem: How the Honor/Shame Issue Got the Wrong End of the Anthropological Stick." Missiology: An International Review 48, no. 2 (2020): 127–141.
Olson, Roger E. The Story of Christian Theology: Twenty Century of Tradition & Reform. Downers Grove: Apollos, 1999.
Richards, E. Randolph, and Brandon J. O'Brien. Misreading Scripture with Western Eyes: Removing Cultural Blinders to Better Understand the Bible. Downers Grove: Inter-Varsity Press, 2012.
Saneh, Lamin. Whose Religion Is Christianity?: The Gospel beyond the West. Grand Rapids: Eerdmans, 2003.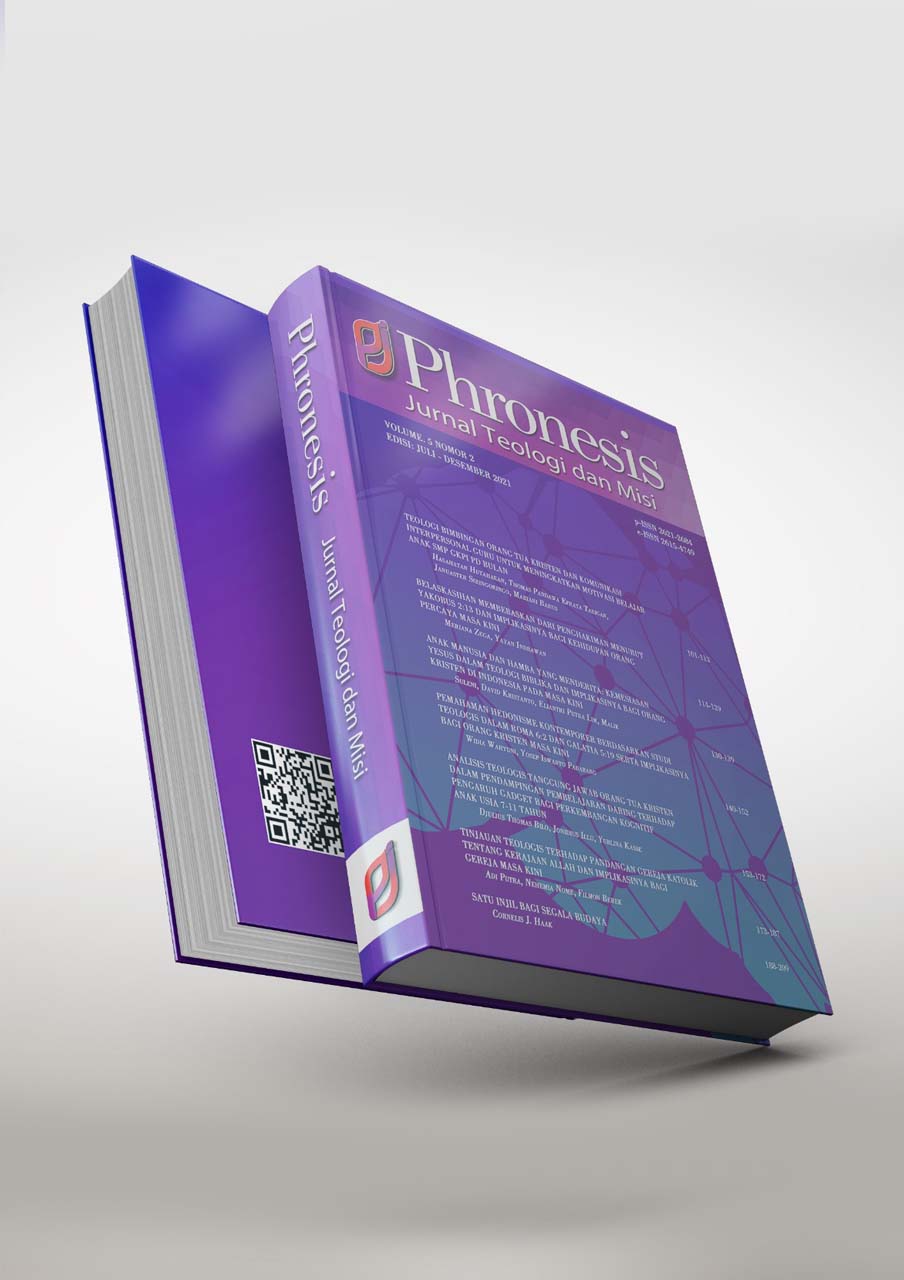 License
Authors who publish in Phronesis: Jurnal Teologi dan Misi agree to the following terms:
1. The author holds the copyright and grants to the journal the right of first publication of the work simultaneously licensed under a Creative Commons Attribution-ShareAlike 4.0 License, which allows others to share the work with an acknowledgment of the work's authorship and initial publication in this journal.
2. Authors may make additional separate contractual arrangements for the non-exclusive distribution of the published journal version of the work (for example, posting it to an institutional repository or publishing it in a book) with acknowledgment of its initial publication in this journal.
3. Authors are permitted and encouraged to post their work online (for example, in institutional repositories or on their websites) before and during the submission process, as this can result in a productive exchange, as well as earlier and larger citations of the published work (See Effects of Access Open).