PRINSIP-PRINSIP PAK ANAK: SEBUAH KAJIAN EKSEGESIS ALKITAB DARI ULANGAN 6: 4-9
Keywords:
children, Christian religious education, globalization, religious education
Abstract
This article seeks to research principles of Christian Religious Education through exegeting Deuteronomy 6:4-9. This research uses the qualitative-descriptive method. Principles of Christian Religious Education constructed based on Deuteronomy 6:4-9 could generate balanced emphases between academic ability and spiritual formation; both are vital to equip the younger generations to face global challenges. Thus, the purpose of Christian Religious Education for children is to build a younger generation that could contribute to the broader society based on solid Christian principles. Deuteronomy 6:4-9 is guidance for parents to practice Christian Religious Education in the family. Family should be the first place for children to confess that there is only one true God, love God, do His instructions, discuss His law, reflect upon it, and bear witness to the one true God.
Downloads
Download data is not yet available.
References
Achenbach, Reinhard. Kamus Ibrani-Indonesia Perjanjian Lama. Jakarta: Yayasan Komunikasi Bina Kasih, 2012.
Andor, Josiah B. "Wholistic Education and the Shema Creed (Deuteronomy 6:4-9)." Research on Humanities and Social Sciences 4, no. 27 (2014): 143–48.
Baker, D. L., and Sitompul Aggussalim. Kamus Singkat Ibrani-Indonesia. Jakarta: BPK Gunung Mulia, 1997.
Barker, Paul Anthony. Kitab Ulangan: Allah Yang Menepati Janji-Janji-Nya. Jakarta: Literatur Perkantas, 2014.
Benyamin, Priskila Issak. "Peran Keluarga Dalam Pendidikan Anak Pada Masa Pandemi Covid-19." KHARISMATA: Jurnal Teologi Pantekosta 3, no. 1 (July 31, 2020): 13–24. https://doi.org/10.47167/kharis.v3i1.43.
Cairns, I. J. Tafsiran Alkitab: Kitba Ulangan Pasal 1-11. Jakarta: BPK Gunung Mulia, 2015.
Guthrie, Donald, Alec Motyer, Alan M. Stibbs, and Donald J. Wiseman. Tafsiran Alkitab Masa Kini I: Kejadian - Esther. Jakarta: Yayasan Komunikasi Bina Kasih, 2015.
Henry, Matthew. Tafsiran Matthew Henry: Injil Markus. Translated by Riana Goat Chiu, Herdian Aprilani, Lanny Murtihardjana, and Paul A. Rajoe. Surabaya: Momentum, 2011.
Kristanto, David, and Tony Salurante. "Iman Kristen Dan Ranah Publik: Sketsa Pemikiran Abraham Kuyper." EPIGRAPHE: Jurnal Teologi Dan Pelayanan Kristiani 5, no. 1 (May 29, 2021): 38. https://doi.org/10.33991/epigraphe.v5i1.246.
Marfo, Elisha Kwabena, and Henry Mark Tembo. "AN EXEGETICAL STUDY OF DEUTERONOMY 6:4 AND ITS EDUCTIONAL/MISSIOLOGICAL IMPICATION IN AFRICA." Journal of AIIAS African Theological Association, no. 6 (2017): 74–84.
Pardede, Nurmalia, Evinta Hotmarlina, Garry Kurniawan, and David Kristanto. "Christian Dress Code during Online Worship." In 2nd International Conference on Social Science, Humanity and Public Health, 645:203–6. Dordrecht: Atlantis Press, 2022.
Pfeiffer, Charles F., and Everett F. Harrison. Tafsiran Alkitab Wycliffe Volume 3: Perjanjian Baru. Malang: Gandum Mas, 2013.
Rantesalu, Syani Bombongan. "Kompetensi Pedagogik Menurut Analisis Ulangan 6:7-9 Dengan Pendekatan Hermeneutik Schleiermacher." BIA': Jurnal Teologi Dan Pendidikan Kristen Kontekstual 1, no. 2 (December 30, 2018): 153–63. https://doi.org/10.34307/b.v1i2.14.
Salurante, Tony, Dyulius Th. Bilo, and David Kristanto. "Transformasi Komunitas Misi: Gereja Sebagai Ciptaan Baru Dalam Roh Kudus." Kurios: Jurnal Teologi Dan Pendidikan Agama Kristen 7, no. 1 (May 9, 2021): 136–48.
Smith, K. G. Writing & Research: A Guide for Theological Students. Carlisle: Langham Global Library, 2019.
Sutrisno, Sutrisno, Peni Hestiningrum, Marthin Steven Lumingkewas, and Bobby Kurnia Putrawan. "Christian Religious Education Toward The Teenagers Character Building." Evangelikal: Jurnal Teologi Injili Dan Pembinaan Warga Jemaat 5, no. 2 (July 28, 2021): 202–12. https://doi.org/10.46445/ejti.v5i2.330.
Tapingku, Joni. "Menabur Pengajaran, Menuai Perkenanan TUHAN Menurut Ulangan 6:1-25." Arrang 1, no. 1 (2014): 22–29.
Tefbana, Abraham. "Peran Orangtua Mendidik Spiritual Anak Di Era Revolusi Industri 4.0 Berdasarkan Ulangan 6:4-9 (Tinjauan Teologis Dan Pedagogis Dalam Pendidikan Agama Kristen)." Luxnos: Jurnal Sekolah Tinggi Teologi Pelita Dunia 7, no. 1 (2021): 117–31. https://doi.org/10.23969/sampurasun.v7i1.
Telaumbanua, Arozatulo. "Peranan Guru Pendidikan Agama Kristen Dalam Membentuk Karakter Siswa." FIDEI: Jurnal Teologi Sistematika Dan Praktika 1, no. 2 (December 29, 2018): 219–31. https://doi.org/10.34081/fidei.v1i2.9.
Tjandra, Daniel S. "Impelementasi Pembelajaran Pendidikan Agama Kristen Di Abad 21." SIKIP: Jurnal Pendidikan Agama Kristen 1, no. 1 (2020): 1–10.
Utley, Bob. Ulangan. Texas: Bible Lesson International, 2008.
Widiastuti, Maria. "Prinsip Pendidikan Kristen Dalam Keluarga Menurut Ulangan 6:4-9." Jurnal Pionir LPPM Universitas Asahan 6, no. 2 (2020): 222–28.
Wirawan, Aprianto. "Pendidikan Kristen Dalam Keluarga Sebagai Pendekatan Pembentukan Karakter Anak." Harati: Jurnal Pendidikan Kristen 1, no. 1 (April 21, 2021): 18–33. https://doi.org/10.54170/harati.v1i1.29.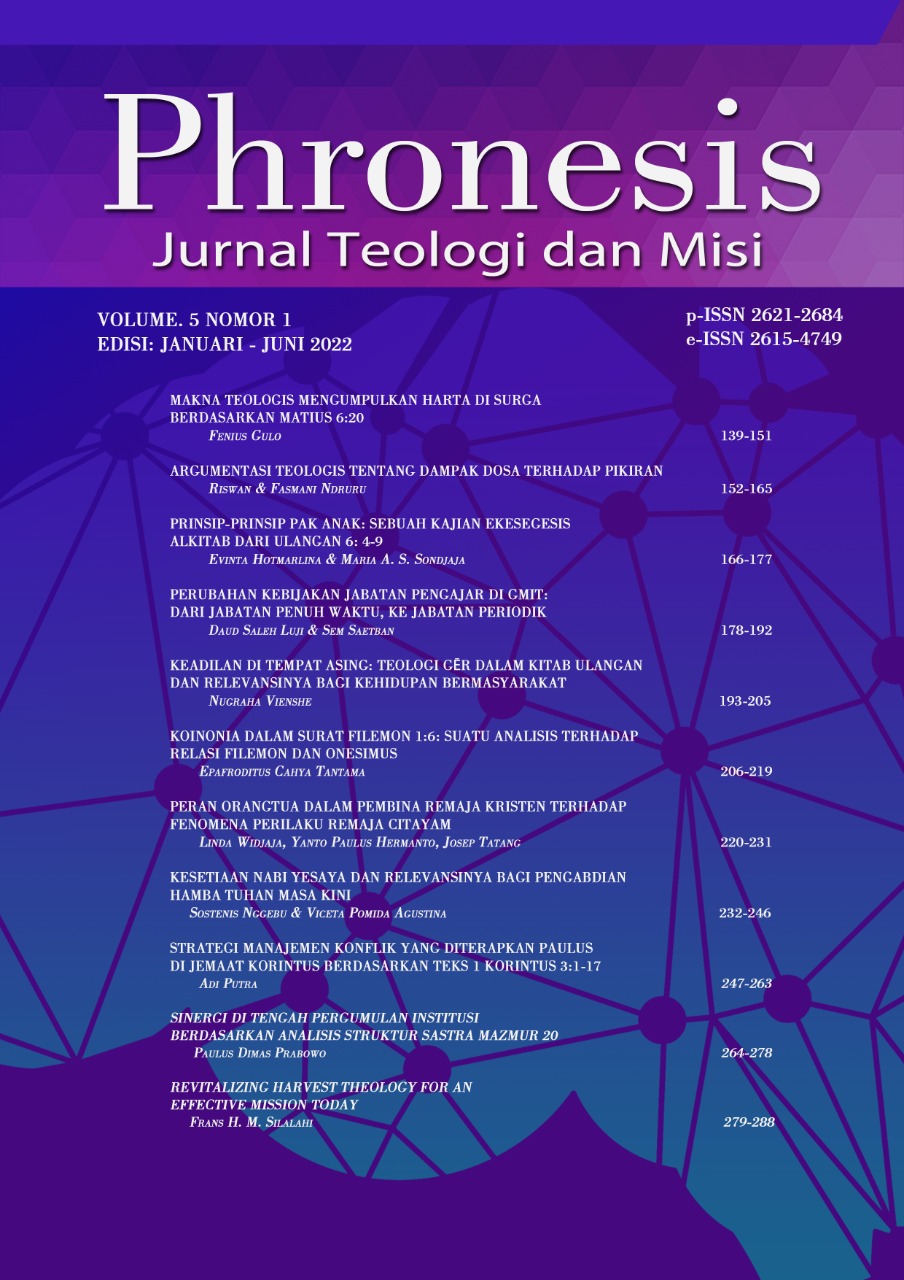 Downloads
License
Copyright (c) 2022 Phronesis: Jurnal Teologi dan Misi
This work is licensed under a Creative Commons Attribution-ShareAlike 4.0 International License.
Authors who publish in Phronesis: Jurnal Teologi dan Misi agree to the following terms:
1. The author holds the copyright and grants to the journal the right of first publication of the work simultaneously licensed under a Creative Commons Attribution-ShareAlike 4.0 License, which allows others to share the work with an acknowledgment of the work's authorship and initial publication in this journal.
2. Authors may make additional separate contractual arrangements for the non-exclusive distribution of the published journal version of the work (for example, posting it to an institutional repository or publishing it in a book) with acknowledgment of its initial publication in this journal.
3. Authors are permitted and encouraged to post their work online (for example, in institutional repositories or on their websites) before and during the submission process, as this can result in a productive exchange, as well as earlier and larger citations of the published work (See Effects of Access Open).