KOINONIA DALAM SURAT FILEMON 1:6: SUATU ANALISIS TERHADAP RELASI FILEMON DAN ONESIMUS
Keywords:
koinonia, Onesimus, Philemon, relationship, transformation
Abstract
Fellowship (Greek: koinonia), as one of the church's vocations, should be able to bridge differences and change social life. However, the reality is the opposite. Christian fellowship sometimes becomes closed to people with certain social status differences. This paper aims to show that fellowship among believers can break down barriers and change lives. Through qualitative research that uses social and textual criticism methods on the Epistle of Philemon with the help of some related literature, an understanding is shown that an enslaved person who is guilty repents. Returns to his master are still counted in the Christian community and involved in the ministry. In the end, this paper concludes that a healthy Christian fellowship can transform lives. Within the Christian community, there is acceptance of one another and giving space for all people with different social statuses to actualize themselves in the life of the church, including in the community's social life.
Downloads
Download data is not yet available.
References
Basrowi and Suwandi. Memahami Penelitian Kualitatif. Jakarta: Rineka Cipta, 2008.
Belo, Yosia. "IMPLEMENTASI KOMUNIKASI PAULUS DALAM MENYELESAIKAN MASALAH BERDASARKAN SURAT FILEMON." Phronesis: Jurnal Teologi dan Misi 3, no. 2 (December 30, 2020): 147–157.
Blümner, Hugo. The Home Life of the Ancient Greeks. New York: Cooper Square Publishers, 1966.
Carson, Herbert M. The Epistles of Paul to the Colossians and Philemon: An Introduction and Commentary. 1st ed. The Tyndale New Testament commentaries. Grand Rapids: Eerdmans, 1960.
Elizabeth Sindoro and Agus Santoso. Tafsir Kitab : Surat Filemon. Jakarta: BPK Gunung Mulia, 2020.
Godet, Frédéric Louis. Studies in Paul's Epistles. Grand Rapids, Mich: Kregel Publications, 1984.
Hatam, Benediktus Feliks. "PERSEKUTUAN YANG MEMBEBASKAN DALAM PERSPEKTIF BIBLIS I KOR 12: 12-31 DAN KEBUDAYAAN MANGGARAI" 10 (2018): 12.
Head, Peter M. "Onesimus the Letter Carrier and the Initial Reception of Paul's Letter to Philemon." The Journal of Theological Studies 71, no. 2 (June 17, 2021): 628–656.
Holland, Nikki. "Philemon in Light of Galatians 3:28." Priscilla Papers Vol. 32, no. No. 3 (2018): 12–16.
Joas Adiprasetya. Labirin Kehidupan 2: Berjumpa Dengan Allah Dalam Peziarahan Sehari-Hari. Jakarta: BPK Gunung Mulia, 2020.
Joshel, Sandra R. Slavery in the Roman World. Cambridge introduction to Roman civilization. New York: Cambridge University Press, 2010.
Kariatlis, Philip. "AFFIRMING KOINONIA ECCLESIOLOGY: AN ORTHODOX PERSPECTIVE" 27 (2012): 15.
Koch, Eldon W. "A Cameo of Koinonia: The Letter to Philemon." Interpretation: A Journal of Bible and Theology 17, no. 2 (April 1963): 183–187.
Kok, Jacobus, and Ilse Swart. "A Social Identity Complexity Theory Reading of Philemon." HTS Teologiese Studies/Theological Studies 77, no. 4 (July 30, 2021). Accessed June 8, 2022. http://www.hts.org.za/index.php/HTS/article/view/6621.
Labobar, K. Dasar-Dasar Hermeneutik: Metode Penafsiran Alkitab Yang Mudah Dan Tepat. PBMR ANDI, 2021. https://books.google.co.id/books?id=AII5EAAAQBAJ.
Made Nopen Supriadi, Tony Salurante, and Minggus Dilla. "Signifikansi Persekutuan Umat Allah Pada Masa Pandemik-Covid 19." Jurnal Teruna Bhakti Vol. 4, no. No. 1 (Agustus 2021): 59–68.
Panamokta, Gerardus Hadian. "Menuju Gereja Terjaring (Networked Church)." Jurnal Teologi 7, no. 1 (May 25, 2018): 9–30.
Pao, D.W., and C.E. Arnold. Colossians and Philemon. ZONDERVAN EXEGETICAL COMMENTARY. Zondervan, 2012. https://books.google.co.id/books?id=jWRWuAAACAAJ.
Prasetya, Jonathan. "ANALISIS RETORIKA PAULUS DI SURAT FILEMON DAN IMPLIKASI TERHADAP TEOLOGI PAULUS." Consilium: Jurnal dan Pelayanan 19 (November 2016): 45–68.
Rainer Scheunemann. Surat Paulus Kepada Filemon. Jakarta: BPK Gunung Mulia, 2016.
Sangkianti, Meidy Widiastuti. "TERAPI KOGNITIF DALAM RESOLUSI KONFLIK UTUSAN LINTAS BUDAYA: TINJAUAN TERHADAP SURAT FILEMON" 1 (2019): 13.
Susanta, Yohanes Krismantyo. "GEREJA SEBAGAI PERSEKUTUAN PERSAHABATAN YANG TERBUKA MENURUT JÜRGEN MOLTMANN." VISIO DEI: JURNAL TEOLOGI KRISTEN 2, no. 1 (June 12, 2020): 105–126.
Sutanto, Hasan. Perjanjian Baru Interlinear Yunani-Indonesia Dan Konkordansi Perjanjian Baru. Jakarta: Lembaga Alkitab Indonesia, 2003.
Tari, Ezra, and Talizaro Tafonao. "Pendidikan Anak dalam Keluarga Berdasarkan Kolose 3:21." Kurios 5, no. 1 (April 30, 2019): 24.
Telaumbanua, Arozatulo. "Analisis Teologi Pendidikan Agama Kristen Berdasarkan Kitab Filemon." Jurnal Teologi Berita Hidup 2, no. 2 (March 31, 2020): 76–93.
Thompson, James. The Church According to Paul: Rediscovering the Community Conformed to Christ. Grand Rapid, Michigan: Baker Academic, a division of Baker Publishing Group, 2014.
Tom Jacobs. Koinonia Dalam Eklesiologi Paulus. Malang: Dioma, 2003.
Waharman, Waharman. "TINJAUAN KESATUAN DARI KEPELBAGAIAN MENURUT KITAB-KITAB INJIL DAN SURAT-SURAT PAULUS." Manna Rafflesia 5, no. 1 (January 1, 1970): 18–36.
Wenno, Vincent Kalvin. "Pendekatan Paulus Dalam Penyelesaian Konflik Perbudakan: Analisis Sosio-Historis Terhadap Surat Paulus Kepada Filemon." Gema Teologika Vol. 7, no. No. 1 (April 2022): 57–72.
Zakaria Harefa, Imayanti Nainggolan, Edison Pangreho, and Juliati. "Makna 'Salam' Dalam Surat-Surat Paulus Dan Impelementasinya Bagi Pelayan Tuhan Saat Ini." Real Didache Jurnal Teologi dan Pendidikan Agama Kristen Vol. 6, no. No. 1 (March 2021): 95–110.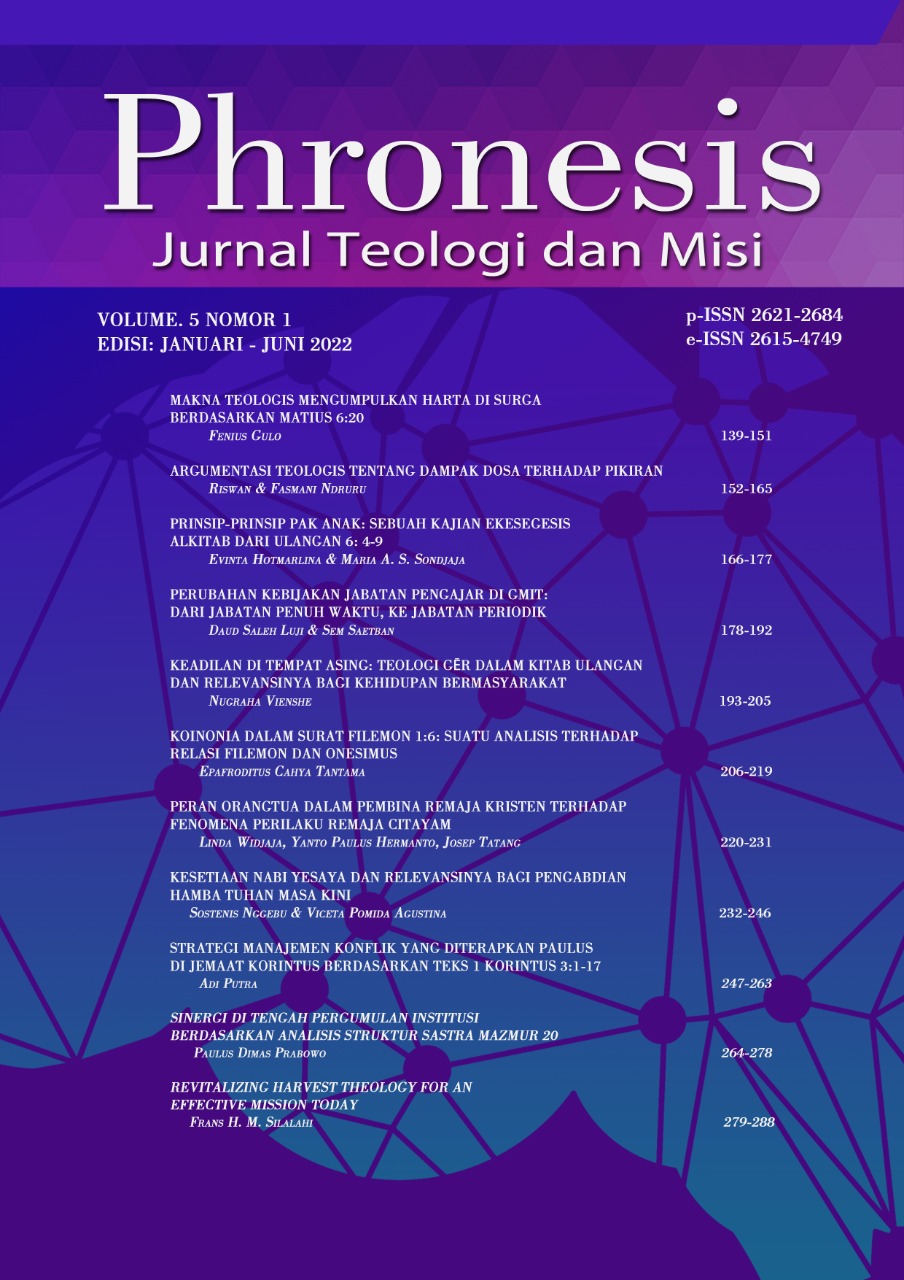 Downloads
License
Copyright (c) 2022 Phronesis: Jurnal Teologi dan Misi
This work is licensed under a Creative Commons Attribution-ShareAlike 4.0 International License.
Authors who publish in Phronesis: Jurnal Teologi dan Misi agree to the following terms:
1. The author holds the copyright and grants to the journal the right of first publication of the work simultaneously licensed under a Creative Commons Attribution-ShareAlike 4.0 License, which allows others to share the work with an acknowledgment of the work's authorship and initial publication in this journal.
2. Authors may make additional separate contractual arrangements for the non-exclusive distribution of the published journal version of the work (for example, posting it to an institutional repository or publishing it in a book) with acknowledgment of its initial publication in this journal.
3. Authors are permitted and encouraged to post their work online (for example, in institutional repositories or on their websites) before and during the submission process, as this can result in a productive exchange, as well as earlier and larger citations of the published work (See Effects of Access Open).