PERAN ORANGTUA DAN PEMBINA REMAJA KRISTEN TERHADAP FENOMENA PERILAKU REMAJA CITAYAM
Keywords:
adolescent behavior, Christian youth, Citayam phenomenon, next generation of Christian youth, parenting to teenager
Abstract
The role of parents and youth coaches in the growth and development of adolescent life is significant. This is because there is much news about teenage problems, such as teenage fights, school shootings, alcohol-related accidents, drugs, early pregnancy outside marriage, and teen suicide. Juvenile delinquency due to dropping out of school and lack of parental attention is also often a problem. Adolescent problems can extend to whole communities, schools, churches, cities, and countries. Teenagers at their critical age are trying to find their identity after going through childhood to adult humans. All positive and negative influences in teenagers' lives tend to be easily absorbed, studied, and carried out, even though many are developed as innovations from their creativity. The presence of the adolescent phenomenon from Citayam has recently become the author's interest to examine the role of parents and youth coaches in responding to their influence on teenagers as the next generation of the Kingdom of God. The phenomenon of Citayam youth brings positive and negative impacts and brings a new challenge for parents and youth coaches to answer the challenges of today's youth. This research was made using a qualitative literature study from the Bible, books about teenagers, articles, and social media content about the Citayam youth phenomenon.
Downloads
Download data is not yet available.
References
Alvia. "Citayam Fashion Week & Harajuku Disamakan, Evelyn Anjani: Di Sana Lebih Aneh." Insert Live.
Boiliu, Fredik Melkias. "Pembelajaran Pendidikan Agama Kristen Dalam Keluarga Di Era Digital." TE DEUM (Jurnal Teologi dan Pengembangan Pelayanan) 10, no. 1 (2020).
Dr. Ida Umami., M.P.d. Psikologi Remaja. Yogyakarta: Idea Press, 2019.
Farah Nazila. "Asal Usul Citayam Fashion Week Yang Viral, Ide Inisiatif Dari Jeje Slebew Dan Bonge." Suara Merdeka.
Fauziah, Syifa. "Viral Sejumlah Remaja Citayam Fashion Week Tertidur Di Area Sudirman, Netizen: Berasa Glamping." Sindonews.Com.
Harahap, M.A, Dr. Nursapia. Penelitian Kualitatif. Pertama. Wal ashri Publishing, 2020.
Isa. "Media Asing Soroti Heboh Fenomena Citayam Fashion Week Jakarta." CNN Indonesia.
Jonata, Willem. "Bonge Superstar Citayam Fashion Week, Dulu Ngamen Dari Umur 6 Tahun, Kini Buat Ibunya Bangga." Tribun News.
Lanny Kusuma. "No Title." Fimela.Com.
Nahar, N I. "Penerapan Teori Belajar Behavioristik Dalam Proses Pembelajaran." NUSANTARA: jurnal ilmu pengetahuan sosial (2016).
Padmomartono, Sumardjono. "Konseling Remaja." Konseling (2014).
Papalia, Diane E, and Ruth Duskin Fieldman. Experience Human Development Menyelami Perkembangan Manusia Edisi 12, Buku 2. Salemba Humanika. Jakarta, 2014.
Paulus Hermanto, Yanto, Raymond Sutanto, Nira Olyvia Purmanasari, and Sekolah Tinggi Teologi Kharisma Bandung. "Tanggung Jawab Orang Tua Dalam Menumbuhkan Kerohanian Anak Berdasarkan Prinsip Alkitab." ejournal.staknkupang.ac.id 1, no. 1 (n.d.).
Purba, Tika Anggreni. "Banyak Remaja Dilanda Kecemasan, Ini Penyebabnya." Bisnis.Com.
Putri, Diva Lufiana. "Ramai Fenomena Citayam Fashion Week, Ini Penjelasan Sosiolog." Kompas.Com.
Radio Dakwah dan Komunikasi FM. "Fenomena Citayam Fashion Week, Wujud Eksistensi Remaja Di Ibu Kota." Radio Dakwah Dan Komunikasi FM.
Richards, Larry. Psikologi Dan Alkitab. Bandung: Kalam Hidup, n.d.
Rojab, Bachtiar. "Citayam Fashion Week Dianggap Sarang LGBT, DPRD DKI: Ini Fakta, Mau Kita Apain?" Sindonews.Com.
Sandywell, Barry. Dictionary of Visual Discourse: A Dialectical Lexicon of Terms. Dictionary of Visual Discourse: A Dialectical Lexicon of Terms, 2011.
Santrock, John W. Adolescence ( Seventeenth Edition), 2019.
Sherin Aprilia. "Kisah Pilu Jeje Slebew Mulai Dari Korban Pelecehan Seksual, Kabur Dari Rumah Hingga Hidup Terlunta Di Jalanan." Portal Jember.
Sidjabat, B.S. Membangun Pribadi Unggul - Suatu Pendekatan Teologis Terhadap Pendidikan Karakter. ANDI Offset, Yogyakarta, 2015, n.d.
Suprihatin, Eny. "Kontekstualisasi Roma 12:2 Dalam Keniscayaan Dunia Digital." Fidei: Jurnal Teologi Sistematika dan Praktika 4, no. 1 (2021).
Surbakti, E. B. Konseling Praktis: Mengatasi Berbagai Masalah. Bandung: Kalam Hidup, 2008.
Syahril dan Ahmad. Pengantar Bimbingan Konseling. Padang: Angkasa Raya, 1986.
Timothy Keller. "Tweet on @timkellernyc."
"Viral Di TikTok Dan Banyak Diajak Kolaborasi, Berapa Penghasilan Roy Citayam?" Kompas.Com.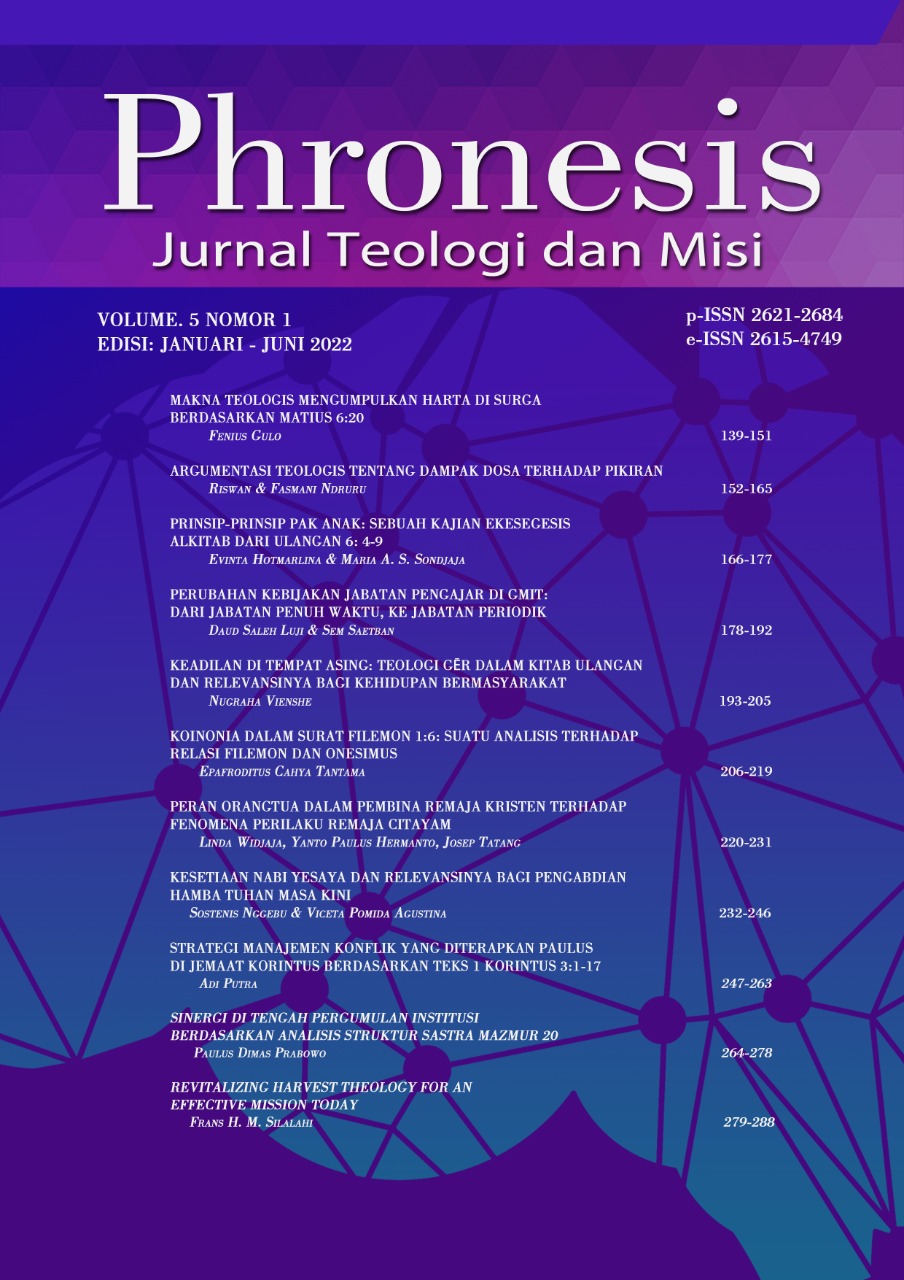 Downloads
License
Copyright (c) 2022 Phronesis: Jurnal Teologi dan Misi
This work is licensed under a Creative Commons Attribution-ShareAlike 4.0 International License.
Authors who publish in Phronesis: Jurnal Teologi dan Misi agree to the following terms:
1. The author holds the copyright and grants to the journal the right of first publication of the work simultaneously licensed under a Creative Commons Attribution-ShareAlike 4.0 License, which allows others to share the work with an acknowledgment of the work's authorship and initial publication in this journal.
2. Authors may make additional separate contractual arrangements for the non-exclusive distribution of the published journal version of the work (for example, posting it to an institutional repository or publishing it in a book) with acknowledgment of its initial publication in this journal.
3. Authors are permitted and encouraged to post their work online (for example, in institutional repositories or on their websites) before and during the submission process, as this can result in a productive exchange, as well as earlier and larger citations of the published work (See Effects of Access Open).