HUBUNGAN ANTARA TUAN DAN HAMBA DALAM DUNIA KERJA BERDASARKAN KOLOSE 3:22-4:1
Keywords:
employer, relationship, servant, worker
Abstract
In Indonesia, the relationship between workers and employers is regulated in a legal regulation that aims to balance interests and justice. However, many disputes between workers and employers are caused by unequal interests and injustice. A more appropriate relationship is needed to ensure fairness and, at the same time, be able to encourage workers and employers to give their best in their relationships. This paper seeks to provide an alternative relationship between workers and employers to ensure justice and provide the best for workers and employers who depart from the spirit of serving and are centred on Christ. This paper is qualitative research that offers a model of servant relations obtained through the excavation of Colossians 3: 22 – 4:1 with the exegesis method. This paper concludes that the servant relationship between workers and employers centred on Christ, with the motive of serving each other based on the values ​​given by Colossians 3: 22 – 4: 1. This awareness will undoubtedly encourage workers and employers to give their best.
Downloads
Download data is not yet available.
References
Admin. 2019. "Jumlah Kasus Hubungan Industrial Berdasarkan Jenis Kasus Di Jawa Barat." Dinas Tenaga Kerja Dan Transmigrasi Provinsi Jawa Barat. 2019. https://opendata.jabarprov.go.id/id/dataset/jumlah-kasus-hubungan-industrial-berdasarkan-jenis-kasus-di-jawa-barat.
Aland, Barbara, Kurt Aland, Johannes Karavidopoulos, Carlo M. Martini, and Bruce M. Metzger, eds. 2018. PERJANJIAN BARU Indonesia - Yunani. Edisi 3. Lembaga Alkitab Indonesia.
Anthoni, Jean, and Fridolin Litimi. 2021. "KAJIAN ETIKA KRISTEN TERHADAP ETOS KERJA KARYAWAN SAGA RETAILINDO KOTA SORONG Jean." Eirene: Jurnal Ilmiah Teologi 6, no. 1: 252–72. https://doi.org/https://doi.org/10.56942/ejit.v6i1.10.
Bambangan, Malik. 2019. "Perspektif Teologis Terhadap Etika Bisnis Kristen." Jurnal Luxnos 5, no. 2: 1–14. https://doi.org/10.47304/jl.v5i2.22.
———. 2020. "Integrasi Karakter Hamba Tuhan Kedalam Pelayanan Dalam Bingkai Teologi Matheus Mangentang." Phronesis Jurnal Teologi Dan Misi 3, no. 1: 47–61. https://doi.org/10.47457/phr.v3i1.48.
Barus, Armand. 2018. Tafsir Alkitab Kontekstual Oikumenis - Surat Kolose. Jakarta: BPK Gunung Mulia.
Chia, Philip Suciadi, and Juanda Juanda. 2021. "Studi Etika Bisnis Berdasarkan Alkitab." Journal Kerusso 6, no. 1: 47–57. https://doi.org/10.33856/kerusso.v6i1.189.
Danker, Frederick William. 2009. The Concise Greek-English Lexicon of the New Testament. Chicago: The University of Chicago Press.
Drane, John. 2016. Memahami Perjanjian Baru: Pengantar Historis Teologi. Jakarta: BPK Gunung Mulia.
Hagelberg, Dave. 2010. Tafsiran Surat Kolose. Jogjakarta: Penerbit Andi.
Hermanto, Yanto Paulus, and Yosep Belay. 2021. "Spiritualitas Alkitabiah Sebagai Hakikat Kepemimpinan Kristen Masa Kini." Fidei: Jurnal Teologi Sistematika Dan Praktika 4, no. 2: 183–205. https://doi.org/10.34081/fidei.v4i2.204.
Hutahaean, Hasahatan, Nurliani Siregar, and Desmiyanti Tampubolon. 2021. "TAFSIR EFESUS 6: 5-8 TENTANG TEOLOGI KERJA DAN APLIKASINYA BAGI PEMUDA GEREJA." Manna Raflesia 8, no. 1: 131–53. https://doi.org/https://doi.org/10.38091/man_raf.v8i1.191.
Kee, Howard Clark, David D. Burke, Steven W. Berneking, and Errol F. Rhodes, eds. 2014. Alkitab Edisi Studi. 2nd ed. Jakarta: Lembaga Alkitab Indonesia.
Latupeirissa, Jacky. 2019. "Etika Bisnis Ditinjau Dari Perspektif Alkitab." PASCA: Jurnal Teologi Dan Pendidikan Agama Kristen 15, no. 1 (November): 8–15. https://doi.org/10.46494/psc.v15i1.63.
Nikijuluw, Victor P.H. 2015. Kitab Kolose - Mengakui Supremasi Kristus Dalam Hal-Hal Sederhana Dan Sepele. Jakarta: Literatur Perkantas.
Pheiffer, Charles F., and Everett F. Harrison, eds. 2020. The Wycliffe Bible Commentary. Volume 3. Malang: Gandum Mas.
Poceratu, Imelda Ch. 2018. "Pengaruh Motivasi Kerja Terhadap Kepuasan Kerja Pegawai Lembaga Pembinaan Khusus Anak (Lpka) Klas Iia Ambon Dalam Perspektif Kristiani." In Seminar Nasional "Archipelago Engineering" (ALE) 2018, 1:163–67. https://doi.org/10.30598/ale.1.2018.163-167.
RI, DIH BPK. 2013. "Undang - Undang Republik Indonesia Nomor 13 Tahun 2003 Tentang Ketenagakerjaan." JDIH BPK RI. 2013. https://peraturan.bpk.go.id/Home/Details/43013.
Rukin. 2019. Metodologi Penelitian Kualitatif. Takalar: Yayasan Ahmar Cendekia Indonesia.
Schultz, John. 2002. "Commentaries to the Books Philippians, Colossians and Ephesians." Bible-Commentaries.Com. 2002. https://www.bible-commentaries.com/source/johnschultz/BC_Phi-Col-Eph.pdf.
Setyo Utomo, Bimo. 2019. "Konsep Bekerja Sebagai Ad Majorem Dei Gloriam: Sebuah Upaya Pemenuhan Sacred Calling." Excelsis Deo: Jurnal Teologi, Misiologi, Dan Pendidikan 4, no. 1: 1–12. https://doi.org/10.51730/ed.v3i2.12.
———. 2020. "Karakteristik Kepemimpinan Hamba Yesus Kristus Menurut Filipi 2:5-8." DIEGESIS: Jurnal Teologi Kharismatika 3, no. 2: 107–19. https://doi.org/10.53547/diegesis.v3i2.78.
Sirait, Yenny Silvia Sari, Muhammad Fadhil Alfathan Nazwar, and Abdan Ramadhani Wijin Florestu. 2021. "Buruh Dicekik Pandemik: Laporan Pelanggaran Hak Buruh Di DKI Jakarta, Bogor, Depok, Tangerang Dan Bekasi Selama Pandemi Covid-19 Maret 2020 – Maret 2021." Jakarta. https://perpustakaan.infoparalegal.web.id/index.php?p=show_detail&id=126&keywords=Buruh+dicekik.
Soewono, Djoko Heore. 2008. "Kedudukan Pengusaha Dan Pekerja Dalam Perspekstif Juridis Historis." JURNAL INSPIRASI 3, no. 1. https://hukum.unik-kediri.ac.id/wp-content/uploads/2019/04/FINAL-5-KEDUDUKKAN-PENGUSAHA-DAN-PEKERJA-JURNAL-INSPIRASI-EDISI-APRIL-2008-NO.-1-VOL.-3-ISSN-NO.-1907-2015-BY-STKIP-TA.pdf.
Tanjung, Hasrudy. 2015. "PENGARUH DISIPLIN KERJA DAN MOTIVASI KERJA TERHADAP PRESTASI KERJA PEGAWAI PADA DINAS SOSIAL DAN TENAGA KERJA KOTA MEDAN." Jurnal Ilmiah Manajemen Dan Bisnis 15, no. 01: 27–36. https://jurnal.umsu.ac.id/index.php/mbisnis/article/view/964.
Tarigan, Iwan Setiawan. 2021. "Eksegesis Dan Penelitian Teologis." Jurnal Teologi Cultivation 5, no. 2. https://doi.org/https://doi.org/10.46965/jtc.v5i2.722.
Utley, Bob. 2011. Paulus Terbelenggu Injil Tak Terbelenggu: Surat-Surat Dari Penjara (Kolose, Efesus Dan Filemon, Dan Kemudian Filipi). Texas: Bible Lesson International.
Veith, Gene Edward, and Patrick Henry College. 2011. "Vocation: The Theology of the Christian Life." Journal of Markets & Morality 14, no. 1: 119–31.
Witherington III, Ben. 2021. Kerja: Sebuah Perspektif Kerajaan Allah. 1st ed. Jakarta: Literatur Perkantas.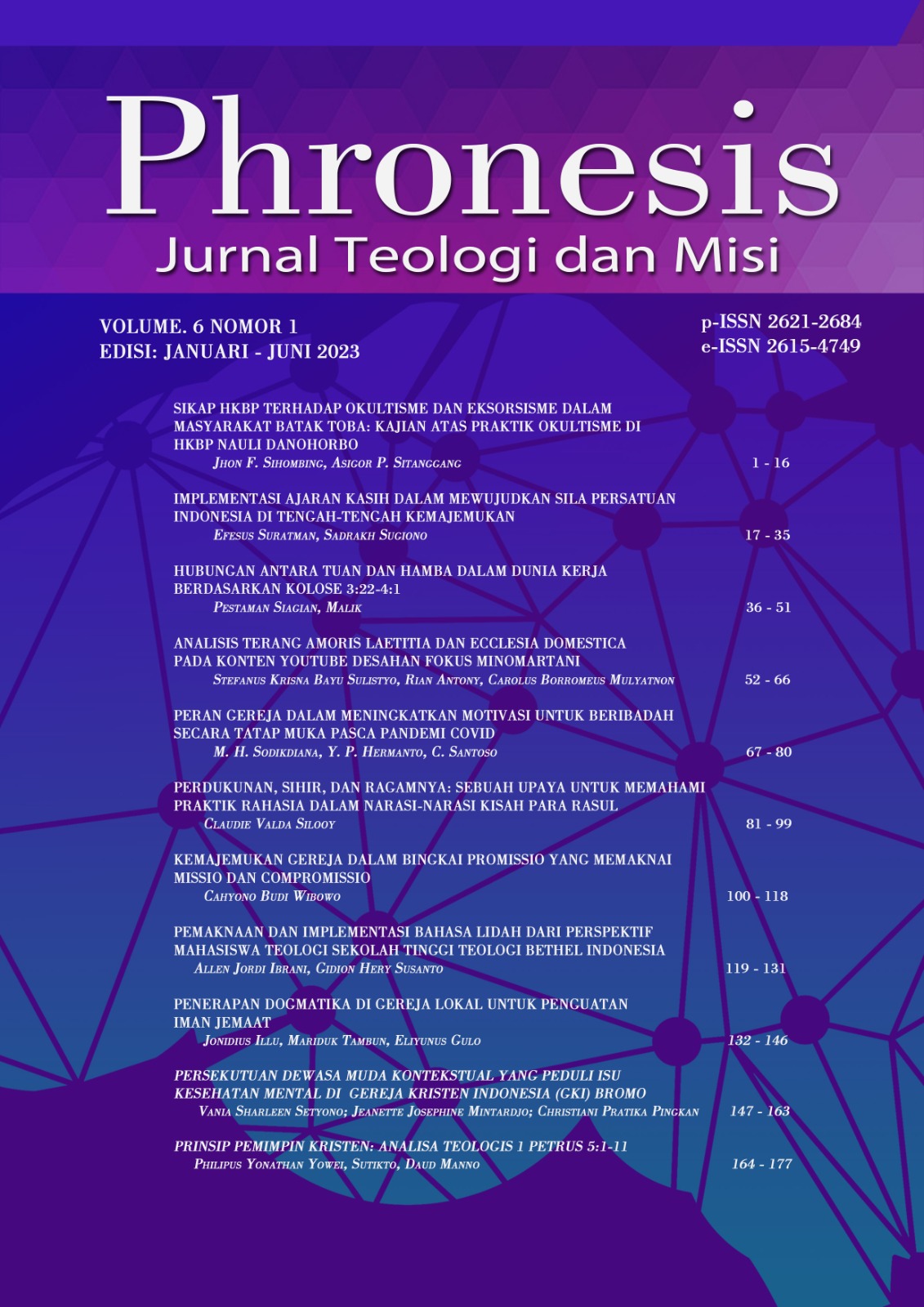 Downloads
License
Copyright (c) 2023 Phronesis: Jurnal Teologi dan Misi
This work is licensed under a Creative Commons Attribution-ShareAlike 4.0 International License.
Authors who publish in Phronesis: Jurnal Teologi dan Misi agree to the following terms:
1. The author holds the copyright and grants to the journal the right of first publication of the work simultaneously licensed under a Creative Commons Attribution-ShareAlike 4.0 License, which allows others to share the work with an acknowledgment of the work's authorship and initial publication in this journal.
2. Authors may make additional separate contractual arrangements for the non-exclusive distribution of the published journal version of the work (for example, posting it to an institutional repository or publishing it in a book) with acknowledgment of its initial publication in this journal.
3. Authors are permitted and encouraged to post their work online (for example, in institutional repositories or on their websites) before and during the submission process, as this can result in a productive exchange, as well as earlier and larger citations of the published work (See Effects of Access Open).