PEMAKNAAN DAN IMPLEMENTASI BAHASA LIDAH DARI PERSPEKTIF MAHASISWA TEOLOGI SEKOLAH TINGGI TEOLOGI BETHEL INDONESIA
Keywords:
Acts, Corinthians, glossolalia, pentecost
Abstract
The term Tongues originates from the event of Pentecost. Even though there are differences in the context and concept of Tongues in Acts 2:1-13 and 1 Corinthians 12-14, it cannot be denied that both of them were events of the power of the Holy Spirit, which, in terminology, according to Luke and Paul used the word Tongues. The problem of speaking in tongues today often refers to 1 Corinthians 12-14, where this phenomenon is seen as something abnormal. This study aimed to measure the suitability between the understanding of Tongues and the implementation of Tongues. This is a descriptive qualitative research and text analysis with an exegesis approach. The research subjects in this study were 6 (six) Postgraduate students from Bethel Indonesia Theological College, where data collection was carried out using primary data by conducting in-depth interviews. At the same time, data analysis consists of data reduction, data display, and conclusion. Through research that has been done, it was found that the meaning of Tongues is a gift from God to carry out duties and functions for the body of Christ, the implementation of Tongues in worship is still carried out but is not an obligation, and Tongues is still relevant and valuable in congregational life.
Downloads
Download data is not yet available.
References
Baker, David L. 2014. Roh Dan Kerohanian Dalam Jemaat: Tafsiran Surat 1 Korintus 12-14. Jakarta: Gunung Mulia.
David, Wenham, and Walton Steve. 2021. Menjelajah Perjanjian Baru. Jilid 1: Kitab Injil dan Kisah Para Rasul. Jakarta: Scripture Union Indonesia.
Gromacki, Robert G. 1971. The Modern Tongues Movement. Grand Rapids: Baker Book.
Hakh. 2010. Perjanjian Baru, Sejarah, Dan Pengantar Pokok-Pokok Teologisnya. Bandung: Bina Media Informasi.
Hasiholan, Anggi Maringan, and Daniel Sihotang. 2021. "Pneumatologi Lukas: Karya Roh Kudus dan Implikasinya untuk Orang Percaya Era Postmodern." HUPERETES: Jurnal Teologi dan Pendidikan Kristen 3, no. 1: 11.
Layantara, Jessica Novia. 2019. "Beyond the Language: Sebuah Studi Analisis Dan Komparasi antara Konsep Bahasa Roh dalam Teologi Pentakosta dengan Konsep Rede dalam Filsafat Martin Heidegger." DUNAMIS: Jurnal Teologi dan Pendidikan Kristiani 4, no. 1 (October): 75–98. https://doi.org/10.30648/dun.v4i1.207.
Mallone, George. 1995. Those Controversial Gifts. Illinois: InterVarsity Press.
Mau, Marthen. 2021. "Makna Glossalalia Menurut Kisah Para Rasul 2:1-13 Dan Implikasi Urapan Roh Kudus Bagi Mahasiswa Teologi." Veritas Lux Mea: Jurnal Teologi Dan Pendidikan Kristen 3, no. 1: 46–57.
Menzies, William W., and Robert P. Menzies. 2005. Roh Kudus Dan Kuasa. Batam: Gospel Press.
Newport, John. 1971. Understanding, Evaluating, and Learning from the Contemporary Glossolalia Movement. Missouri: Le Roi.
Proctor II, Russel F. 1990. "The Rhetorical Functions of Christian Glossollia." Journal of Psychology and Christianity 9, no. 3.
Purnama, Ferry. 2020. "Apakah Bahasa Roh Merupakan Tanda Awal Baptisan Roh Kudus?" Kharisma: Jurnal Ilmiah Teologi 1, no. 1 (June): 37–50. https://doi.org/10.54553/kharisma.v1i1.3.
Putri, Ira Suwitomo, Joseph Christ Santo, and Joko Sembodo. 2022. "Praktik Bahasa Roh Membangun Diri Sendiri Menurut I Korintus 14:4 Sebagai Upaya Mengendalikan Emosi." Miktab: Jurnal Teologi dan Pelayanan Kristiani 2, no. 2 (December): 132–49. https://doi.org/10.33991/miktab.v2i2.437.
Samarenna, Desti. 2017. "Analisis 1 Korintus 14:2-6 Tentang Karunia Berbahasa Roh dan Bernubuat." DUNAMIS: Jurnal Teologi dan Pendidikan Kristiani 2, no. 1 (November): 1–11. https://doi.org/10.30648/dun.v2i1.128.
Saputra, Rudyanto Chandra, Sentot Sadono, Hana Suparti, and Marthen Bailu. 2019. "KARUNIA-KARUNIA 'PELAYANAN' MENURUT KISAH PARA RASUL DI KALANGAN GEMBALA." SHIFT KEY JURNAL TEOLOGI DAN PENGEMBANGAN PELAYANAN 9, no. 1: 97.
Siahaan, Evan. 2012. "Refleksi Alkitabiah Fenomena Glossolalia." Antusias: Jurnal Teologi dan Pelayanan 2, no. 1: 20.
Siahaan, Harls Evan R. 2021a. "Bahasa Roh Dan Spiritualitas Perikoresis Dalam Peristiwa Pentakosta: Analisis Reinterpretatif Kisah Para Rasul 2: 1-13." LOGIA: Jurnal Teologi Pentakosta 2, no. 2: 18–31.
———. 2021b. "Praktik Bahasa Roh dalam Ruang Publik: Sebuah Gagasan Membangun Kecerdasan Emosional." DIEGESIS: Jurnal Teologi Kharismatika 4, no. 1 (June): 30–39. https://doi.org/10.53547/diegesis.v4i1.94.
Sitanggang, Murni Hermawaty. 2017. "Bahasa Lidah Dalam Ibadah Bersama Berdasarkan I Korintus 14." DUNAMIS: Jurnal Penelitian Teologi Dan Pendidikan Kristiani 2, no. 1 (November): 45. https://doi.org/10.30648/dun.v2i1.127.
Stanley M., Burges. 2002. The International Dictionary of Pentacostal and Charismatic Movements. Michigan: Zoncervan.
Sugiyono. 2007. Metode Penelitian Kuanitatif Kualitatif Dan R & D. Bandung: Elfabeta.
Supatra, Hendarto. 2019. "MENGENAL PENTAKOSTALISME DI INDONESIA." Jurnal Abdiel: Khazanah Pemikiran Teologi, Pendidikan Agama Kristen Dan Musik Gereja 3, no. 2 (November): 11–24. https://doi.org/10.37368/ja.v3i2.97.
Tampubolon, Yohanes Hasiholan, Aeron Frior Sihombing, Geri Gehotman Mangasake, Hafa' Akhododo, Maria Mayda Bunge Tana, Ricky Pianto Randa, and Williams Jefferson Bill Walimena. 2021. "Analisis Perbandingan Gramatikal-Historis Bahasa Lidah Dalam 1 Korintus Dan Kisah Para Rasul." Jurnal Teologi Berita Hidup 3, no. 2 (March): 189–204. https://doi.org/10.38189/jtbh.v3i2.80.
Tolego, Yopi, and Herman Liud. 2022. "Karunia Roh Menurut 1 Korintus 12:8-11 Dan Penerapannya Pada Ibadah." Jurnal Salvation 2, no. 2 (January): 114–24. https://doi.org/10.56175/salvation.v2i2.38.
Tozer, A.W. 2022. The Knowledge of the Holy. Cambridge: The Lutterworht Press.
Wamble, Hugh. 1971. "Glossolalia in Christian History," in Tongues. Edited by Luther B. Dyer. Missouri: Le Roi.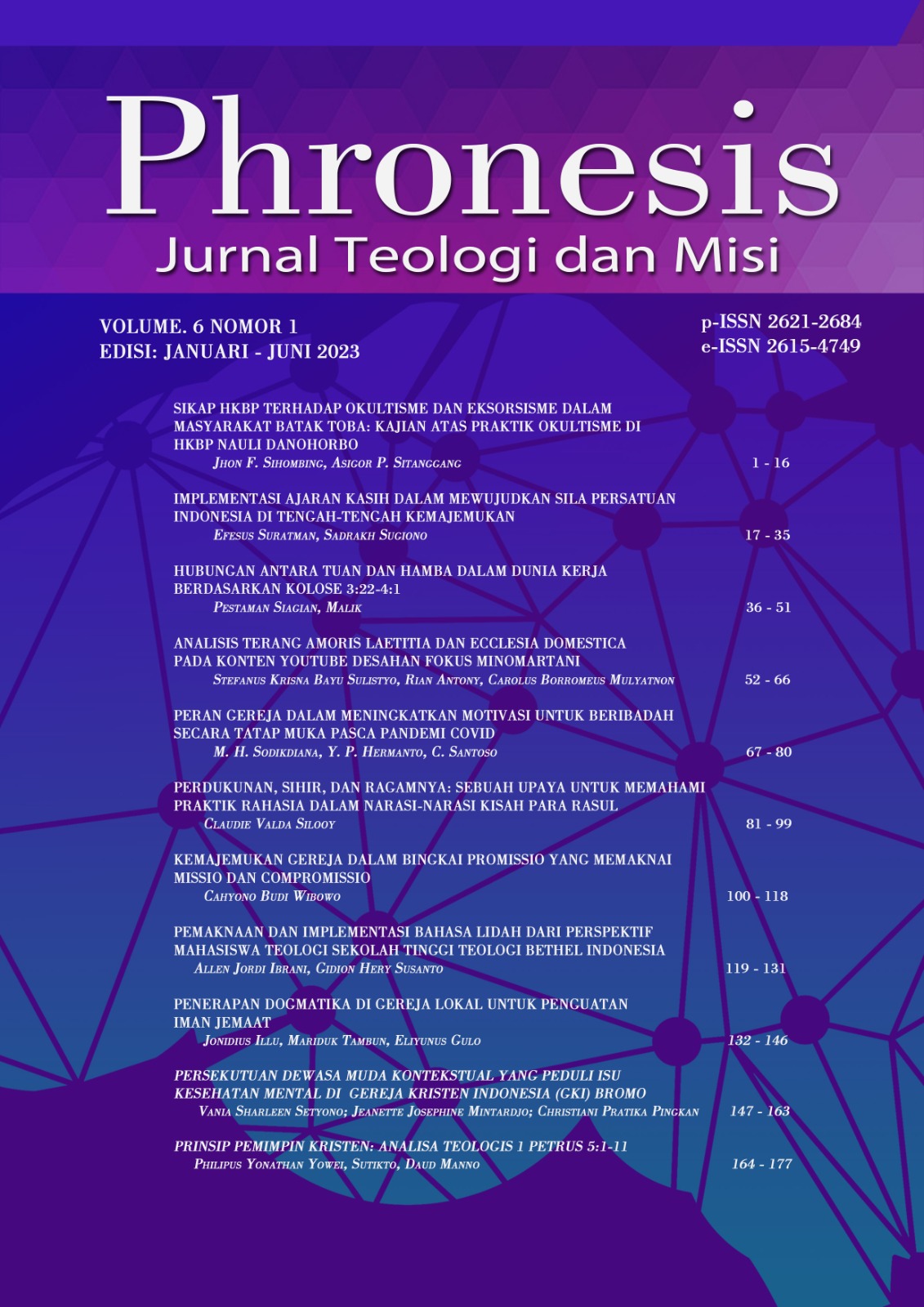 Downloads
License
Copyright (c) 2023 Phronesis: Jurnal Teologi dan Misi
This work is licensed under a Creative Commons Attribution-ShareAlike 4.0 International License.
Authors who publish in Phronesis: Jurnal Teologi dan Misi agree to the following terms:
1. The author holds the copyright and grants to the journal the right of first publication of the work simultaneously licensed under a Creative Commons Attribution-ShareAlike 4.0 License, which allows others to share the work with an acknowledgment of the work's authorship and initial publication in this journal.
2. Authors may make additional separate contractual arrangements for the non-exclusive distribution of the published journal version of the work (for example, posting it to an institutional repository or publishing it in a book) with acknowledgment of its initial publication in this journal.
3. Authors are permitted and encouraged to post their work online (for example, in institutional repositories or on their websites) before and during the submission process, as this can result in a productive exchange, as well as earlier and larger citations of the published work (See Effects of Access Open).