PERSEKUTUAN DEWASA MUDA KONTEKSTUAL YANG PEDULI ISU KESEHATAN MENTAL DI GEREJA KRISTEN INDONESIA (GKI) BROMO
Keywords:
community-based action research, GKI, psychosocial development, stages of faith development, quarter life crisis
Abstract
Koinonia is one of the vocations of the church. As a good fellowship of believers, each individual in the congregation should be seen as a holistic human with four main aspects: physical, mental, social, and spiritual. This research examines mental health issues, specifically the Quarter Life Crisis experienced by the young adult congregation of GKI Bromo. By conducting field research using community-based action research (CBAR), the method found that the young adults of GKI Bromo were struggling with mental health issues in the context of building the congregation. It was necessary to design a fellowship involving the human mental aspect. The fellowship needs to concern and accommodate young adults to share their real experiences and give them space to do individual reflection. The follow-up action needed to be based on the findings of this research is that GKI Bromo needs to create a forum that facilitates contextualized peer support groups of young adults.
Downloads
Download data is not yet available.
References
Adams, Katharine S., Jeremy R. Tost, Mark A. Whatley, Meghan C. Brown, Brendan J. Dochney, Jessica M. Taylor, and Mary H. Neal. 2018. "Relationship of Christian Beliefs to Attitudes Toward People With Mental Illness." American Journal of Psychotherapy 71 (3): 104–9. https://doi.org/10.1176/appi.psychotherapy.20180022.
Budijanto, Bambang. 2018. Dinamika Spiritualitas Generasi Muda Kristen Indonesia. 1st ed. Jakarta: Yayasan Bilangan Research Center.
Desti, Azania, and Naan. 2021. "PERAN SPIRITUAL BAGI KESEHATAN MENTAL MAHASISWA DI TENGAH PANDEMI COVID-19." Humanistika: Jurnal Keislaman 7 (1): 26–44. https://doi.org/10.36835/humanistika.v7i1.384.
Erikson, Erik. 2010. Childhood and Society. Yogyakarta: Pustaka Pelajar.
Gross, Elise, and Jason Paltzer. 2021. "Effects of a Virtual Church-Based Wellness Circle Program in Chile During COVID-19." Christian Relief, Development, and Advocacy: The Journal of the Accord Network 2 (2): 85–90.
Gultom, Joni Manumpak Parulian. 2022. "MISI GEREJA DALAM PENGEMBANGAN PRAKTEK PENGINJILAN PRIBADI DAN PEMURIDAN GENERASI Z." Manna Rafflesia 9 (1): 18–36.
Hasmy, Lestiani Aulia, and Ghozali. n.d. "Literature Review Dampak Pandemi Covid-19 Terhadap Stress Pada Remaja." Borneo Student Research 3 (2).
Kärkkäinen, Veli-Matti. 2017. Hope and Community. Wm. B. Eerdmans Publishing.
Nainupu, Marthen. 2020. Berteologi di tengah pandemi. Jakarta: BPK Gunung Mulia. https://www.tokopedia.com/rhemabook/berteologi-di-tengah-pandemi.
Rainer, Thom S. 2020. The Post-Quarantine Church: Six Urgent Challenges and Opportunities That Will Determine the Future of Your Congregation. Tyndale Momentum.
Ridlo, Ilham Akhsanu. 2020. "Pandemi COVID-19 dan Tantangan Kebijakan Kesehatan Mental di Indonesia." INSAN Jurnal Psikologi dan Kesehatan Mental 5 (2): 162–71. https://doi.org/10.20473/jpkm.V5I22020.162-171.
Shelton SJ, Charles M. 1987. Spiritualitas Kaum Muda: Bagaimana Mengenal Dan Mengembangkannya. Yogyakarta: Kanisius.
Simanjuntak, David Parsaulian, David Eko Setiawan, Mei Situmorang, and Rachel Aprilia Ginting. 2021. "Peran Gereja dalam Pembinaan Warga Gereja yang Mengalami Gangguan Mental." Shift Key : Jurnal Teologi dan Pelayanan 11 (1): 68–77. https://doi.org/10.37465/shiftkey.v11i1.119.
Stringer, Ernest T. 2007. Action Research. SAGE Publications.
Supriadi, Made Nopen, Tony Salurante, and Minggus Dilla. 2021. "Signifikansi Persekutuan Umat Allah pada Masa Pandemik-Covid 19." JURNAL TERUNA BHAKTI 4 (1): 59–68. https://doi.org/10.47131/jtb.v4i1.99.
Tanamal, Nini Adelina. 2021. "Hubungan Religiusitas Dan Resiliensi Dalam Mempengaruhi Kesehatan Mental Masyarakat Terhadap Pandemic Covid 19." Jagaddhita Jurnal Kebhinekaan Dan Wawasan Kebangsaan 1 (1): 25–39.
Tumonglo, Esther Epin. n.d. "TANTANGAN GEREJADALAM MELAYANI PENDERITA GANGGUAN MENTAL DI GEREJA TORAJA JEMAAT FILADELFIA KONDONGAN." VISIO DEI: Jurnal Teologi Kristen 4 (1): 104–16.
Tyas, Maria Yustina Suprihatining, Ahmad Guntur Alfianto, and Wenny Rahmawati. 2022. "GAMBARAN KESEHATAN JIWA PADA GENERASI Z DI KELOMPOK PEMUDA GEREJA KOTA MALANG: LAPORAN KASUS." Jurnal Kesehatan Hesti Wira Sakti 10 (1): 29–34. https://doi.org/10.47794/jkhws.v10i1.359.
Wiryasaputra, Totok S. 2014. Pengantar Konseling Pastoral. Yogyakarta: Kelompok Penerbit Diandra.
Wonda, Paipen. 2023. "Upaya Pelayanan Gereja YangRelevan Pada Masa Pasca PandemiCOVID 19." Logon Zoes Jurnal Teologi, Sosial, Dan Budaya 6 (1): 15–25.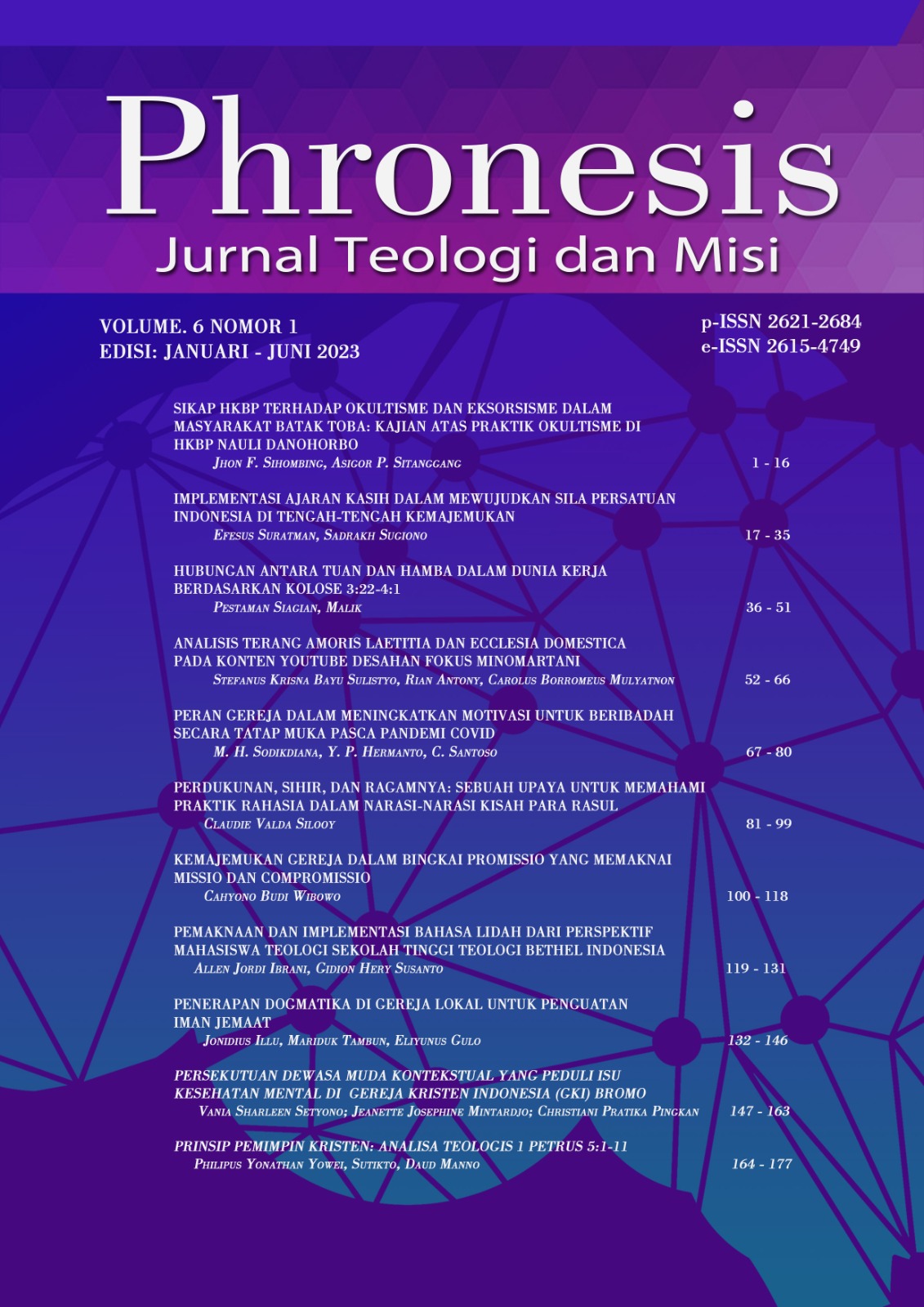 Downloads
License
Copyright (c) 2023 Phronesis: Jurnal Teologi dan Misi
This work is licensed under a Creative Commons Attribution-ShareAlike 4.0 International License.
Authors who publish in Phronesis: Jurnal Teologi dan Misi agree to the following terms:
1. The author holds the copyright and grants to the journal the right of first publication of the work simultaneously licensed under a Creative Commons Attribution-ShareAlike 4.0 License, which allows others to share the work with an acknowledgment of the work's authorship and initial publication in this journal.
2. Authors may make additional separate contractual arrangements for the non-exclusive distribution of the published journal version of the work (for example, posting it to an institutional repository or publishing it in a book) with acknowledgment of its initial publication in this journal.
3. Authors are permitted and encouraged to post their work online (for example, in institutional repositories or on their websites) before and during the submission process, as this can result in a productive exchange, as well as earlier and larger citations of the published work (See Effects of Access Open).