ROH KUDUS DALAM TEOLOGI PERJANJIAN BARU I:
Roh Kudus, Agen Misi Allah Yang Kedua Dalam Injil Sinoptik Dan Kisah Para Rasul
Keywords:
Teologi Perjanjian Baru, Roh Kudus, agen Misi Allah kedua, Keselamatan dan Komunitas baru
Abstract
Teologi Perjanjian baru adalah bidang yang luas. Namun demikian fokus dari teologi PB adalah Allah dan karya-Nya dalam rangka misi penyelamatkan manusia berdosa dengan membentuk  komunitas baru. Karya keselamtan ini datang dari Allah, dikerjakan oleh dan dalam Yesus Kristus dan direalisasikan bagi orang percaya oleh Roh kudus dan karya-Nya. Artikel ini akan mengulas secara khusus tentang Roh kudus dan karya-Nya sebagai agen misi Allah kedua secara berkala dan berkesinambungan. Dalam mengulas, akan menggunakan pendekatan historis-teologis dengan menjadikan Alkitab dan khususnya PB sebagai dokumen kanonik yang Allah berikan kepada gereja sebagai sang pemelihara. Pengungkapan dan pengulasan pribadi Roh kudus dan karya-Nya sebagai agen misi Allah kedua dalam rangka menuntaskan misi penyelamatan akan dimulai dari dokumen Injil Sinoptik dan Kisah Para Rasul dengan menjadikan karya Marshall: New Testament Theology sebagai sebuah patron.
Downloads
Download data is not yet available.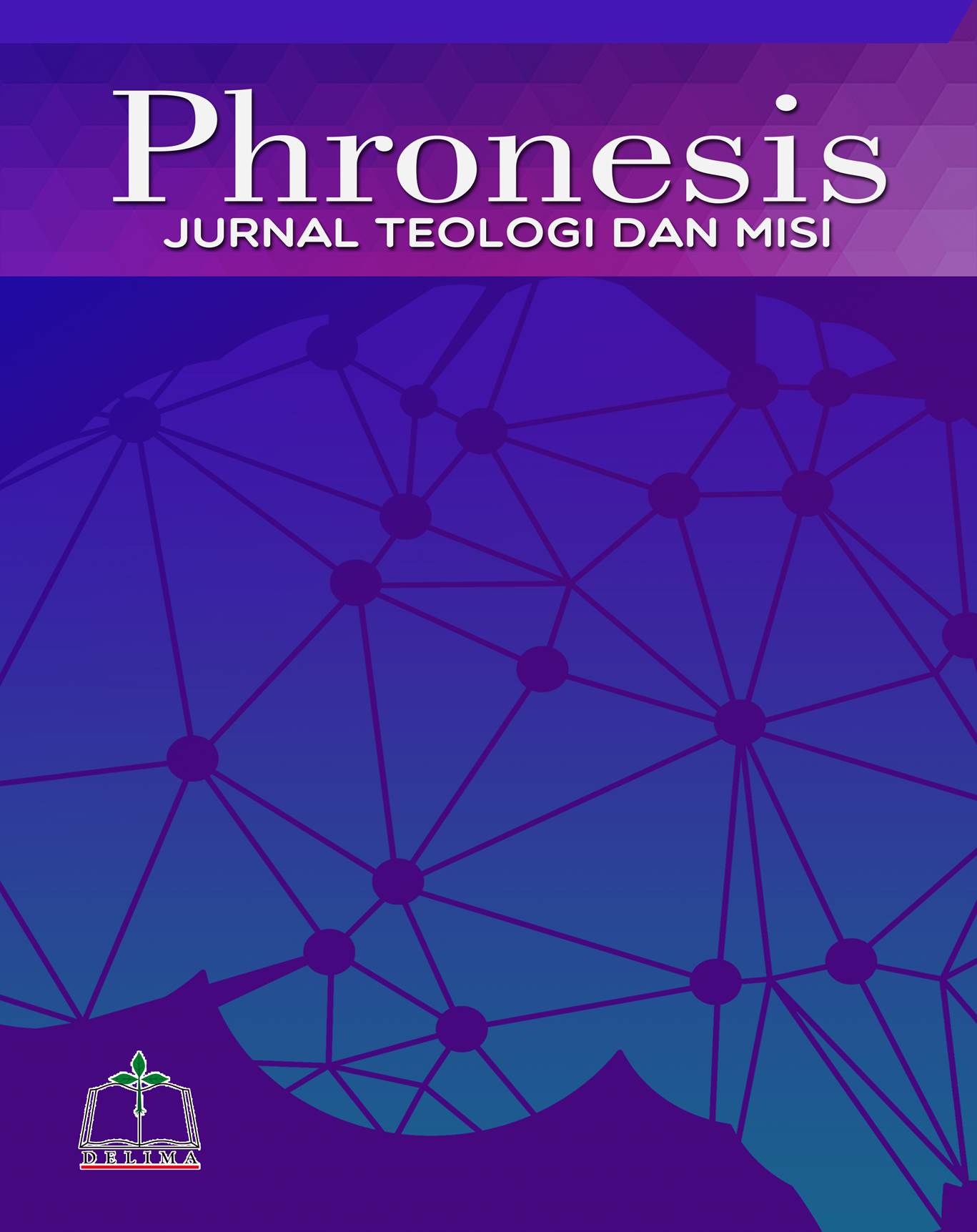 Downloads
License
Authors who publish in Phronesis: Jurnal Teologi dan Misi agree to the following terms:
1. The author holds the copyright and grants to the journal the right of first publication of the work simultaneously licensed under a Creative Commons Attribution-ShareAlike 4.0 License, which allows others to share the work with an acknowledgment of the work's authorship and initial publication in this journal.
2. Authors may make additional separate contractual arrangements for the non-exclusive distribution of the published journal version of the work (for example, posting it to an institutional repository or publishing it in a book) with acknowledgment of its initial publication in this journal.
3. Authors are permitted and encouraged to post their work online (for example, in institutional repositories or on their websites) before and during the submission process, as this can result in a productive exchange, as well as earlier and larger citations of the published work (See Effects of Access Open).