GEREJA MEMPERSIAPKAN PEMUDA MELALUI MENTORING DI GBI ASIA AFRIKA BANDUNG
Abstract
Abstract
With the progress of the changing times, making all things in this world experience significant changes, even the church did not escape from these challenges. But the most striking problem in the end times is the lack of the church to prepare the younger generation or youth for the future. Because the younger generation is the future of the church. The church forgetting the younger generation is the same as forgetting the future of the church itself. Therefore, the author here is interested in further researching how the church prepares itself for the future by mentoring youth so that the church has a bright future and is maintained according to God's will? And what the author has researched, is practiced in the Bethel Church of Indonesia Asia Africa (Kalam Hidup) Bandung to prove whether youth mentoring can answer previous questions at GBI Asia Afrika (Kalam Hidup) Bandung?
Downloads
Download data is not yet available.
References
Indonesia, C. C. (2015). Kita Sedang Kehilangan Satu Generasi. www.jawaban.com
Indonesia, S. (n.d.). Fakta Yang Menyebabkan Anak Muda Meninggalkan Gereja , Apakah Gereja Mau Berdiam Diri Saja. Retrieved November 28, 2020, from www.superbookIndonesia.com/article/read/584
John C. Maxwell. (2001). Leading From The Lockers (interaksa (ed.)). Interaksa.
Kinnaman, D. (2012). You Lost ME. Baker Books.
Munroe, M. (2002). The Spirit Leadership (The Spirit). Immanuel.
Prihanto, A. (2018). Peran Proses Mentoring Pemimpin Kaum Muda Bagi Perkembangan Pelayanan Pemuda Di Gereja. Jurnal Jaffray, 16(2), 197. https://doi.org/10.25278/jj71.v16i2.258
Rosemary S. Cafferella. (1994). Planning Programs for Adult Learners: A Practical Guide for Educators, Trainers and Staff Developers. Jossey-Bass Publishers.
Sahartian, S. (2020). Tugas Pemimpin Muda Kristen Masa Kini Sebagai Gembala Menurut 1 Timotius 4. Angelion: Jurnal Teologi Dan Pendidikan Kristen, 1(1), 83–97. https://e-journal.sttberitahidup.ac.id/index.php/jan/article/view/45/42
Sinulingga, B., & Laukapitang, Y. D. A. (2019). Kajian Pengajaran PAK Terhadap Motivasi Beribadah Pemuda Di GBI MCC Makassar. Repository Skripsi Online, 1(3), 191–197. https://skripsi.sttjaffray.ac.id/index.php/skripsi/article/view/49
Unarto, E. (2006). Bertumbuh Dalam Karakter Baru (4th ed.). Pustaka Sorgawi.
Wijanarko, J. (2016). Father and Son. Keluarga Indonesia Bahagia.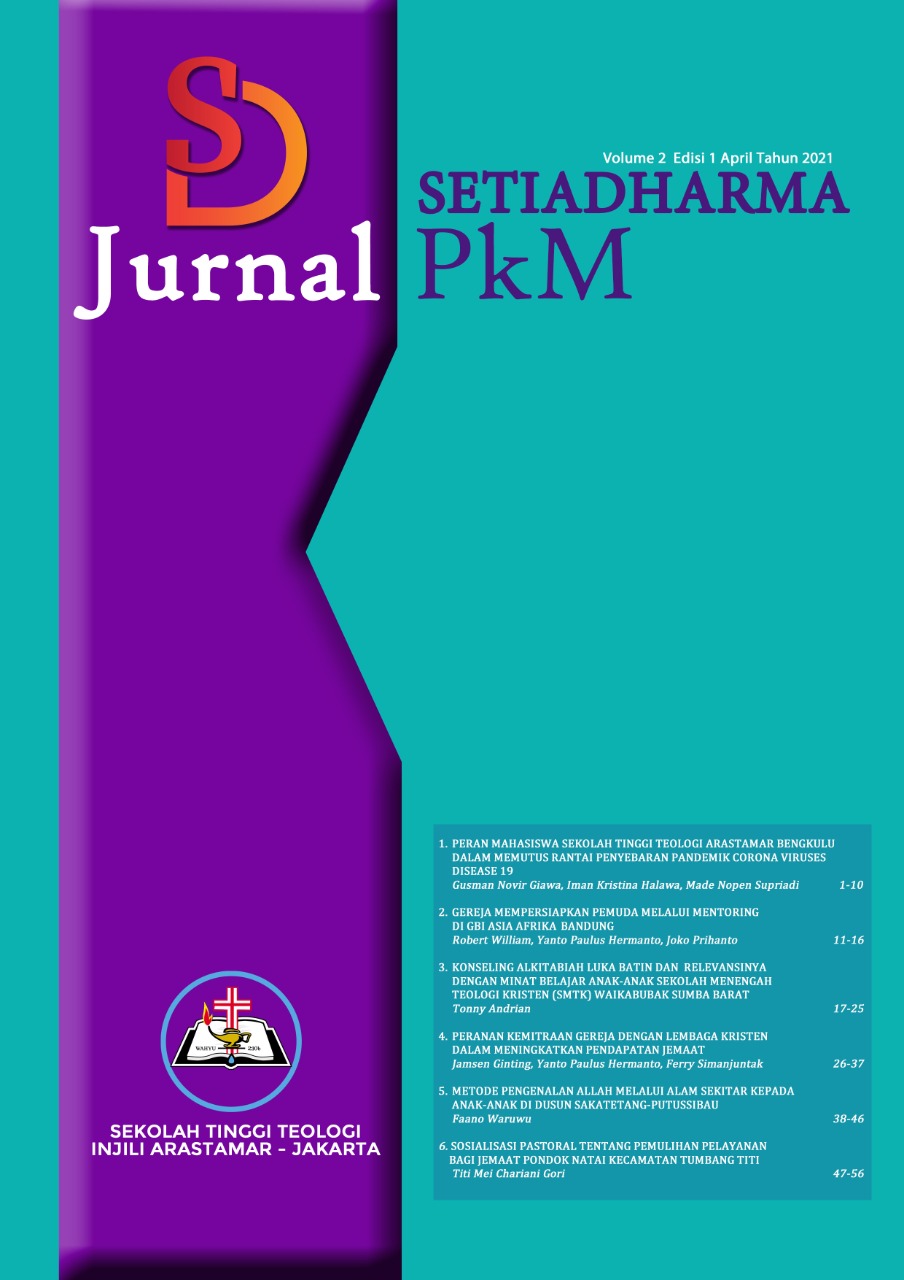 Downloads
How to Cite
Rungkat, R. W., & Prihanto, J. (2021). GEREJA MEMPERSIAPKAN PEMUDA MELALUI MENTORING DI GBI ASIA AFRIKA BANDUNG. Jurnal PKM Setiadharma, 2(1), 11–16. https://doi.org/10.47457/jps.v2i1.109
License
Copyright (c) 2021 Jurnal PKM Setiadharma
This work is licensed under a Creative Commons Attribution 4.0 International License.
Authors who publish with this journal agree to the following terms:
Authors retain copyright and grant the journal right of first publication with the work simultaneously licensed under a Creative Commons Attribution License that allows others to share the work with an acknowledgement of the work's authorship and initial publication in this journal.
Authors are able to enter into separate, additional contractual arrangements for the non-exclusive distribution of the journal's published version of the work (e.g., post it to an institutional repository or publish it in a book), with an acknowledgement of its initial publication in this journal.
Authors are permitted and encouraged to post their work online (e.g., in institutional repositories or on their website) prior to and during the submission process, as it can lead to productive exchanges, as well as earlier and greater citation of published work (See The Effect of Open Access).