KONSELING PRANIKAH DALAM MEMPERSIAPKAN KELUARGA KRISTEN DI GEREJA KRISTEN SETIA INDONESIA (GKSI) "JEMAAT ISA ALMASIH" TAMAN MINI
Keywords:
counseling, premarital, family, christian, GKSI
Abstract
Some of the main issues that will be discussed in this paper include: 1) the perception that premarital counseling is not important and a waste of time; 2) premarital counseling is carried out only to fulfill the requirements of marriage; 3) premarital counseling is considered an unpleasant way because it talks about personal things.The aim of the study is to show Christians that premarital counseling is important to prepare for lifelong marriage. Starting a family needs to be well prepared through premarital counseling so that each partner knows who he is, what are his weaknesses and strengths in order to become a family that grows in faith and lets go of the old pattern of life so that it becomes a blessing.The method used is qualitative research with the hope of giving the right perspective and attitude about the importance of premarital counseling.
Downloads
Download data is not yet available.
References
Armand Barus. Spiritualitas Pastoral. Jakarta: Sekolah Tinggi Teologi Amanat Agung, 2019.
Hines, Darrell L. Pernikahan Kristen - Konflik & Solusinya. Diedit oleh Rika Uli Napitupulu - Simorangkir. Jakarta: BPK. Gunung Mulia, 2018.
Illu, Jonidius. "Peran Gereja Dalam Pelayanan Pastoral Terhadap Pasangan Hamil Sebelum Menikah." Phronesis 3 No. 1 Ju (2020).
King, Clayton & Charie. 12 Pertanyaan yang harus diajukan Sebelum Anda Menikah. Jakarta: Immanuel, 2013.
Lumintang, Stevri Indra Lumintang & Danik Astuti. Theologi Pernikahan Kristen di Tengah Krisis. Jakarta: Ithl, 2016.
Manalu, Evi Oktavia. Pengaruh Konseling Pranikah Terhadap Keutuhan Keluarga. Jurnal Teologi dan Pelayanan. Vol. 6, 2020. https://sttintheos.ac.id/e-journal/index.php/antusias.
Mathis, Dale Mathis & Susan. Menuju Pernikahan yang Sehat dan Solid. Yogyakarta: ANDI, 2014.
Powlison, David. Mengatakan Kebenaran Dalam Kasih. Surabaya: Momentum, 2011.
Ridderbos, Herman. Paulus Pemikiran Utama Theologinya. Diedit oleh Steve Hendra. Surabaya: Momentum, 2015.
Susabda, Yakub B. Konseling Pastoral. Jakarta: BPK Gunung Mulia, 2014.
———. Konseling Pranikah. Bandung: Mitra Pustaka, 2005.
———. Menjadi Konselor Yang Profesional. Yogyakarta: ANDI, 2011.
Trisna, Jonathan A. Two Become One - Membangun dan Mewujudkan Pernikahan Bahagia Sesuai Prinsip Alkitab. Edisi ke-5. Yogyakarta: ANDI, 2017.
Yakub B. Susabda. Pembinaan Keluarga Kristen. Bandung: Mitra Pustaka dan Pionir Jaya, 2011.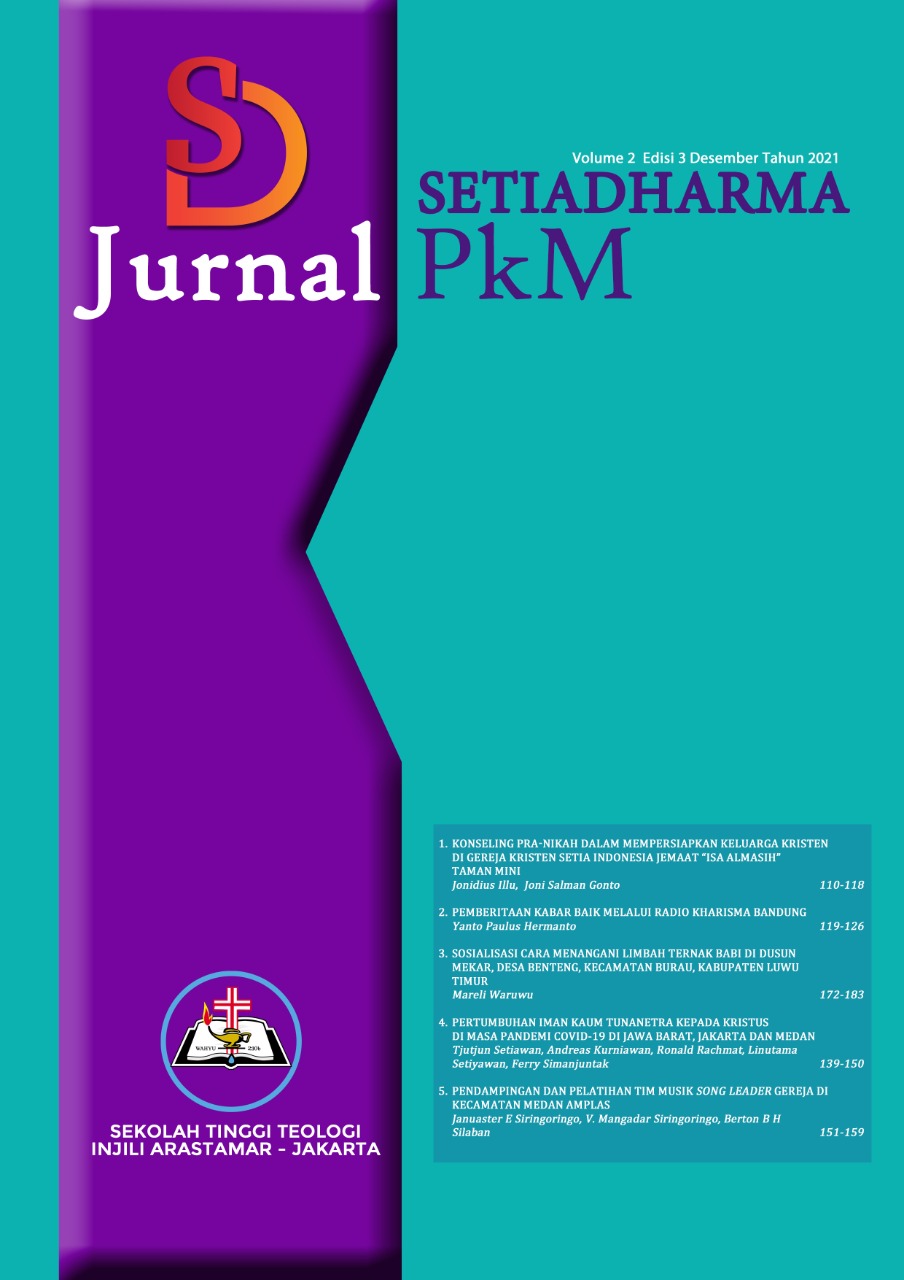 Downloads
How to Cite
Illu, J., & Gonto, J. S. (2021). KONSELING PRANIKAH DALAM MEMPERSIAPKAN KELUARGA KRISTEN DI GEREJA KRISTEN SETIA INDONESIA (GKSI) "JEMAAT ISA ALMASIH" TAMAN MINI. Jurnal PKM Setiadharma, 2(3), 110–118. https://doi.org/10.47457/jps.v2i3.162
License
Authors who publish with this journal agree to the following terms:
Authors retain copyright and grant the journal right of first publication with the work simultaneously licensed under a Creative Commons Attribution License that allows others to share the work with an acknowledgement of the work's authorship and initial publication in this journal.
Authors are able to enter into separate, additional contractual arrangements for the non-exclusive distribution of the journal's published version of the work (e.g., post it to an institutional repository or publish it in a book), with an acknowledgement of its initial publication in this journal.
Authors are permitted and encouraged to post their work online (e.g., in institutional repositories or on their website) prior to and during the submission process, as it can lead to productive exchanges, as well as earlier and greater citation of published work (See The Effect of Open Access).