PEMBERITAAN KABAR BAIK MELALUI RADIO KHARISMA BANDUNG
Keywords:
Preaching, gospel, radio, teaching, systematic
Abstract
The call to preach the good news is an urgent matter so that mankind's biggest problem, namely sin, can be resolved. The Bible begins by describing the tragic human condition, a situation only the Bible can answer. Through the gospel, human sins can be resolved and humans can return to peace with God. The preaching of the gospel must be done because it is God's desire that all sinful humans can be saved from eternal punishment. STT Kharisma to meet these goals in collaboration with radio kharisma. And committed to preaching the good news every week to Kharisma 828 AM radio listeners. The method used in delivering this good news is by means of lectures, and interactive discussions both with charisma radio listeners and with other sources. Of course the target  is so that charismatic radio listeners can grow spiritually. The procedure for preaching the good news is planned in such a way as to be structured and systematic so that it is easy to understand and understand. And finally the message recipients (charisma radio listeners) can get to know the Lord Jesus and grow spiritually.
Downloads
Download data is not yet available.
References
Baskoro, Haryadi, and Hendro Hariyanto Siburian. "Keseimbangan Pertumbuhan Spiritual Dan Intelektual: Teladan Yesus Dan Paulus Bagi Hamba Tuhan Masa Kini." FIDEI: Jurnal Teologi Sistematika dan Praktika (2019).
Calvin Miller. Pola Hidup Kristen, Mengukur Pertumbuhan Kita. Bandung: Kalam Hidup, 2002.
Eugene Peterson. Pola Hidup Kristen, Bertumbuh Sebagai Orang Kristen Yang Sehat. Bandung: Kalam Hidup, 2002.
Evelyn Christenson. Pola Hidup Kristen, Berubah. Bandung: Kalam Hidup, 2002.
GUNAWAN, AGUNG. "PEMURIDAN DAN KEDEWASAAN ROHANI." SOLA GRATIA: Jurnal Teologi Biblika dan Praktika (2020).
Harjanto. Perencanaan Pengajaran. Jakarta: PT. Rangga Karya, 2008.
Horowski, Jarosław. "Christian Religious Education and the Development of Moral Virtues: A Neo-Thomistic Approach." British Journal of Religious Education (2020).
Imeldawati, Tiur, and Yayan Erina Br. Regar. "Prinsip Pertumbuhan Rohani Dalam Efesus 5:1-21 Dan Korelasinya Dalam Mengupayakan Pertumbuhan Rohani Jemaat GPdI Gunung Moria Bedagai." Jurnal Christian Humaniora (2021).
KPI. "Survey Nielsen Indonesia 'Penetrasi Media,'" 2017.
Lase, Pieter. Katekisasi Umum Menyibak Tabir Kebenaran. Malang: Gandum Mas, 2014.
Lebar, Lois E. Education That Is Christian (Proses Belajar Mengajar Kristiani & Kurikulum Yang Alkitabiah). Edited by Tjuk S. Kaihatu. 2nd ed. Jakarta: Penerbit GAndum Mas, 2006.
Mika, Mika, and Petronella Tuhumury. "Implementasi Strategi Pembinaan Menuju Pertumbuhan Rohani Pemuda Gkii Jemaat Sidu'ung Muara Berau." Jurnal Jaffray (2013).
Telaumbanua, Arozatulo. "E-Misi : Aplikasi Penginjilan Berbasis Teknologi." Prodising (2020).
———. "Peran Gembala Sidang Sebagai Pendidik Dalam Pertumbuhan Rohani Jemaat." FIDEI: Jurnal Teologi Sistematika dan Praktika (2019).
Yanto Paulus Hermanto. KATEKETIKA: BAGAIMANA GEREJA YANG MENUMBUHKAN ROHANI & MENINGKATKAN PERAN MISI JEMAAT. 1st ed. Purwokerto: pena persada, 2021.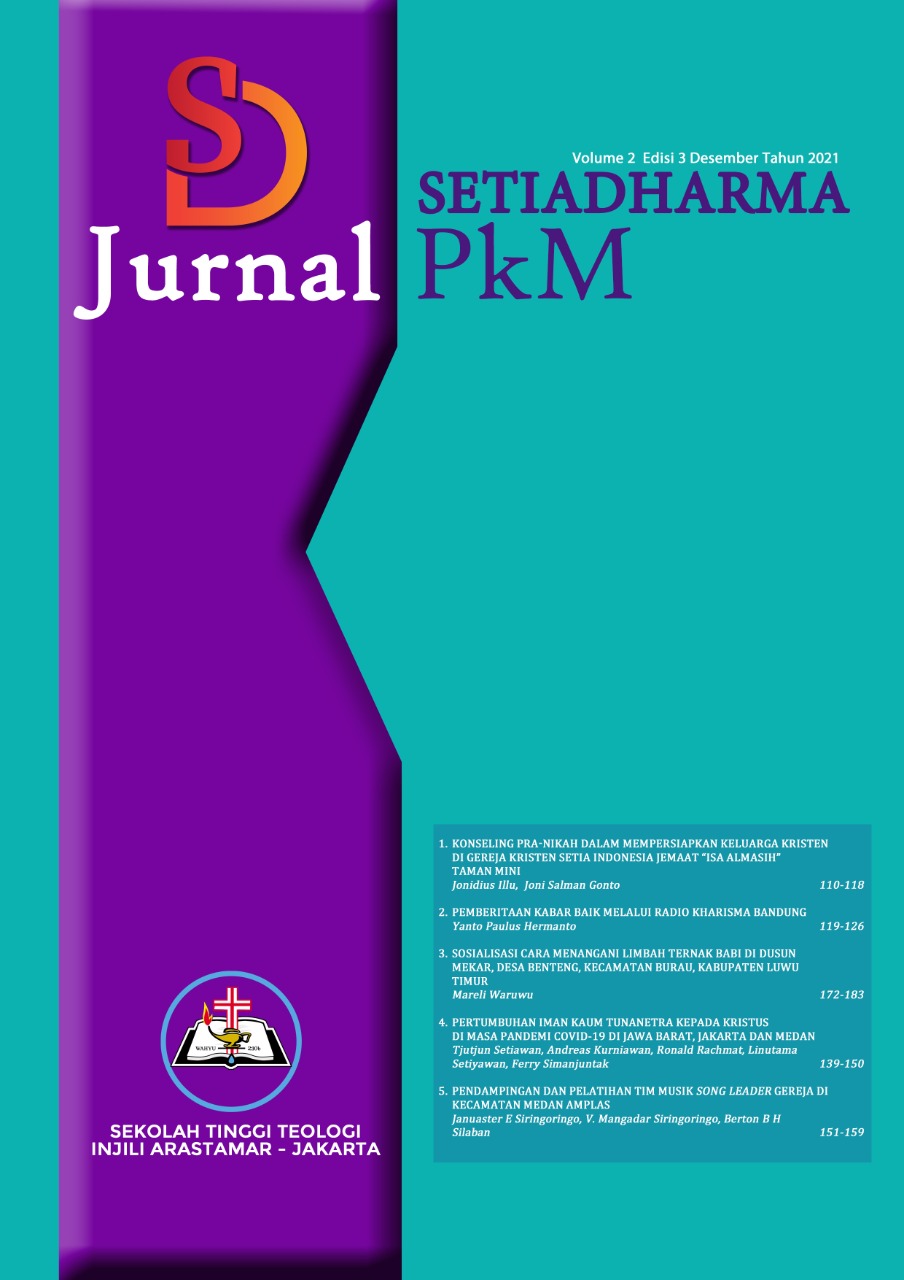 Downloads
How to Cite
Hermanto, Y. P. (2021). PEMBERITAAN KABAR BAIK MELALUI RADIO KHARISMA BANDUNG. Jurnal PKM Setiadharma, 2(3), 119–126. https://doi.org/10.47457/jps.v2i3.163
License
Authors who publish with this journal agree to the following terms:
Authors retain copyright and grant the journal right of first publication with the work simultaneously licensed under a Creative Commons Attribution License that allows others to share the work with an acknowledgement of the work's authorship and initial publication in this journal.
Authors are able to enter into separate, additional contractual arrangements for the non-exclusive distribution of the journal's published version of the work (e.g., post it to an institutional repository or publish it in a book), with an acknowledgement of its initial publication in this journal.
Authors are permitted and encouraged to post their work online (e.g., in institutional repositories or on their website) prior to and during the submission process, as it can lead to productive exchanges, as well as earlier and greater citation of published work (See The Effect of Open Access).