PENDAMPINGAN DAN PELATIHAN TIM MUSIK SONG LEADER GEREJA DI KECAMATAN MEDAN AMPLAS
Indonesia
Keywords:
Musik of church, song leader, worshiper, worship in church, musik's team
Abstract
In one Worship in the Church, determining the Leader of Praise is a position in itself that gets serious attention for the Shepherds. Because if you make the wrong choice, worship will lose the opportunity to prepare the congregation to enjoy the Word of the Lord. On the other hand, the Church Music Team that accompanies the resounding songs of praise is also a part that gives color and flavor to a worship. Denominationally it can be said that the music's team of the Charismatic, Pentacostal-pantecostal, and Pentecostal church denominations of Bethel has its place for the congregation in each worship. The Community Service Team took the opportunity to provide theoretical and practical training to the Song Leader and the Music's Team to several Churches in Medan. Methods are selected by combining onsite activities for practice and online for the delivery of theories. The results were satisfactory from the participants. This activity is important because it is given to 37 participants from four church denominations who claim to feel the need for similar training.
Downloads
Download data is not yet available.
References
Abineno, JL. Ch. Unsur-Unsur Liturgia Yang Dipakai Gereja-Gereja Di Indonesia. Jakarta: BPK Gunung Mulia, 2012.
Biaf, Johan. Peranan Pemimpin Pujian Penyembahan Dalam Pertumbuhan Rohani Jemaat Gereja GKII POS PI Haleluya Timika. Palangkaraya: IKB Press, 2020.
Bounds, Christopher T, Constance M Cherry, and Mary M Brown. Memilih Lagu Ibadah : Panduan Bagi Pemimpin Ibadah. Edited by Samuel K. Tedjawijay and Chilianha Jusuf. Malang: Literatur SAAT, 2020.
Christimoty, Debora Nugrahenny. "Teologi Ibadah Dan Kualitas Penyelenggaraaan Ibadah: Sebuah Pengantar." PASCA: Jurnal Teologi dan Pendidikan Agama Kristen 15, no. 1 (2019): 1–7. https://journal.stbi.ac.id/index.php/PSC/article/view/62.
Delviniotis, Dimitrios S. "Acoustic Characteristics of Modern Greek Orthodox Church Musik." Journal of Voice 27, no. 5 (2013): P656.E1-656.E1.
Hasahatan Hutahaean. "Ibadah Dari Rumah: Kenikmatan Dan Kekudusannya." Koran Sinar Indonesia Baru. Medan, April 25, 2020.
Hulst, Mary S. Pedoman Khotbah Lengkap: Sepuluh Cara Praktis Untuk Khotbah Yang Lebih Baik. Jakarta: Waskita Publishing, 2018.
Hutahaean, Hasahatan. Pelayan Tuhan Di Gereja Dan Masyarakat. Luwuk: Pustaka Star's Lub, 2020.
Hutahaean, Hasahatan, Bonnarty Steven Silalahi, and Linda Zenita Simanjuntak. "Spiritualitas Pandemik: Tinjauan Fenomenologi Ibadah Di Rumah." Evangelikal: Jurnal Teologi Injili dan Pembinaan Warga Jemaat 4, no. 2 (August 1, 2020): 234–249. https://journal.sttsimpson.ac.id/index.php/EJTI/article/view/270.
Jatmiko, Bakhoh. "Mencari Model Tata Ibadah Dalam Gereja Kristen Nazarene Di Indonesia Di Abad XXI." SANCTUM DOMINE: JURNAL TEOLOGI 7, no. 1 (2020): 1–24. https://journal.sttni.ac.id/index.php/SDJT/article/view/41/36.
Kavolder Togatorop. "Pengaruh Peningkatan Ibadah Dalam Keluarga Terhadap Karakter Remaja Kristen Di Yayasan Perguruan Anugerah Sinagoge SMPTK Medan." PROVIDENSI: Jurnal Pendidikan dan Teologi 3, no. 1 (2020): 52–66. https://journal.sttasm.ac.id/index.php/provedensi/article/view/79.
Kloppers, E. "Fragments of the Sacred: Sacramentally Sustained in Times of Uncertainty." Acta Theologica 40, no. 2 (2020): 96–115.
Mau, Marthen Luther, and Filipus Nubatonis. "PERAN GEMBALA SEBAGAI PENDIDIK DALAM PENGGEMBALAAN DI GEREJA KRISTEN SETIA INDONESIA JEMAAT ENSINGO DESA SUNGAI DANGIN KECAMATAN NOYAN KABUPATEN SANGGAU." Jurnal PKM Setiadharma 1, no. 3 (2020): 87–93. https://jurnal.sttsetia.ac.id/index.php/pkm/article/view/105/61.
Ogunleye, Adeolu. "Beyond Hand Waving: Indices For Hymn Leading in Corporate Christian Worship." E-Journal of Religious and Theological Studies 7, no. 9 (2021): 126–131.
Rauhut, Michael. "With God and Guitars: Popular Musik, Socialism, and the Church in East Germany." Popular Musik and Society 40, no. 3 (2017): 292–309.
Sasongko, Michael Hari. "MUSIK ETNIK DAN PENGEMBANGAN MUSIK GEREJA." Tonika: Jurnal Penelitian dan Pengkajian Seni 2, no. 1 (2019): 32–47. https://journal.stt-abdiel.ac.id/tonika/article/view/41.
Sema, Daniel. "PENGAJARAN MUSIK GEREJA BERCIRIKAN PENTAKOSTA KARISMATIK: SEBUAH KAJIAN BAGI PENDIDIKAN MUSIK GEREJA MASA KINI." Shift Key : Jurnal Teologi dan Pelayanan 9, no. 2 (2020): 15–38.
Silaban, Berton Bostang Hamonangan. Dasar Musik; Pengantar Dalam Musik Gereja. Medan: Prodi Teologi STT-SU, 2021.
Silaban, Bostang Berton Hamonangan, and Hasahatan Hutahaean. "MODEL PEMBINAAN REMAJA DI ERA PANDEMIK DENGAN PA BGA." Jurnal PKM Setiadharma 1, no. 3 (2020): 53–58. http://jurnal.sttsetia.ac.id/index.php/p.
Silitonga, Roedy. "Respon Gereja Atas Pandemik Corona Virus Desease 2019 Dan Ibadah Di Rumah." Manna Rafflesia 6, no. 2 (2020): 86–111.
Siringoringo, Januaster, Thomas Pandawa Efrata Tarigan, and Christin Liliana Pane. "Pengaruh Kecakapan Mengajar Guru PAK Terhadap Minat Dan Hasil Belajar Siswa." Didache Jurnal Teologi dan Pendidikan Kristen 1, no. 2 (2020): 187–204. https://journal.sttsimpson.ac.id/index.php/DJCE/article/view/353.
Wiguna, Bone Pandu. "SPRITUALITAS IBADAH DALAM TRADISI METHODIST DI TENGAH PANDEMI COVID-19." Voice of Wesley: Jurnal Ilmiah Musik dan Agama 3, no. 2 (2020): 55–65. https://jurnalvow.sttwmi.ac.id/index.php/jvow/article/view/55.
Wijayanto, Aris. Pembinaan Musik Gereja: Materi Ringkas Untuk Pembekalan Pelayan Musik Dan Organis Gereja. Jakarta: Yayasan Taman Pustaka Kristen Indonesia, 2014.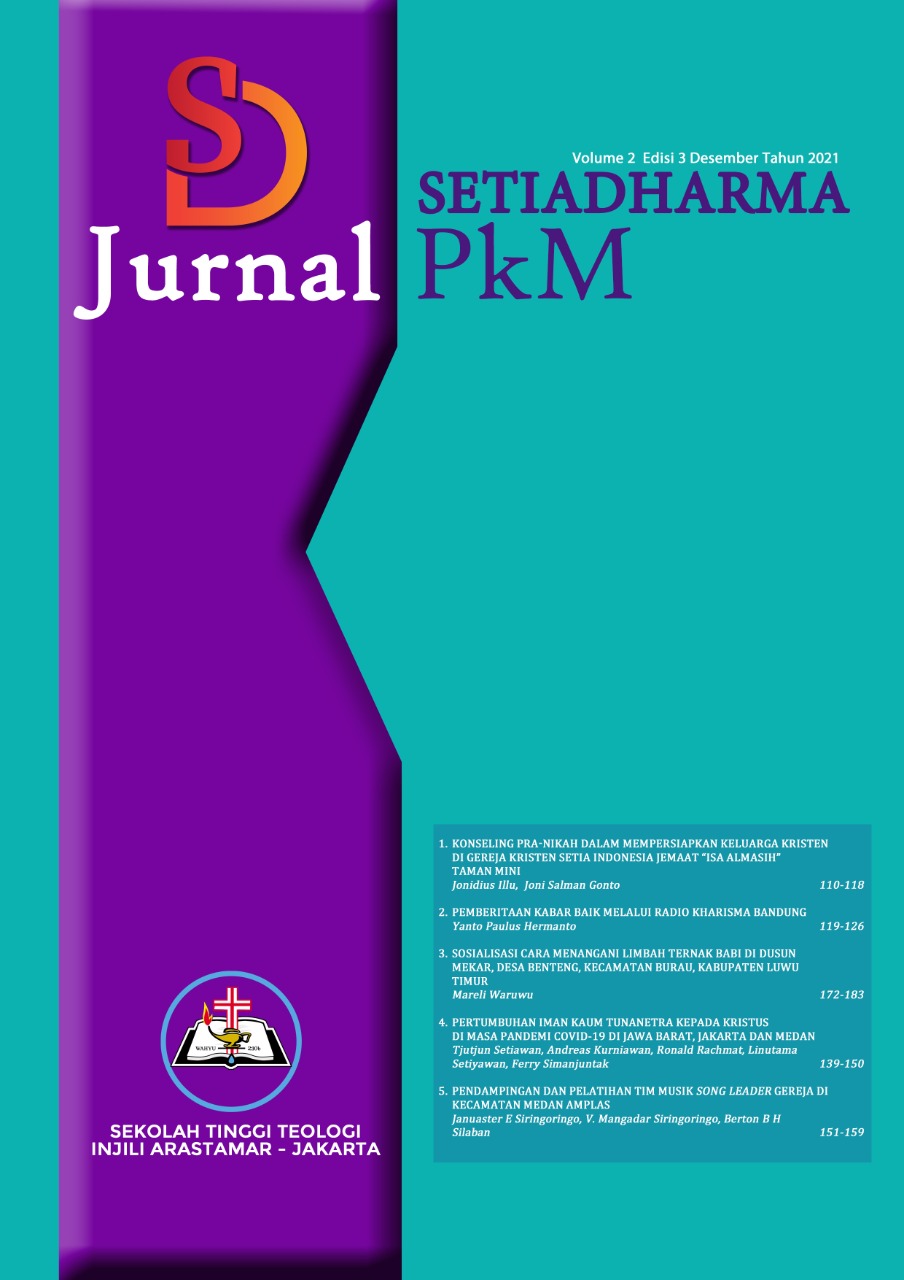 Downloads
How to Cite
Siringoringo, J. E., Siringoringo, V. M., & Silaban, B. B. H. (2021). PENDAMPINGAN DAN PELATIHAN TIM MUSIK SONG LEADER GEREJA DI KECAMATAN MEDAN AMPLAS: Indonesia. Jurnal PKM Setiadharma, 2(3), 151–159. https://doi.org/10.47457/jps.v2i3.205
License
Authors who publish with this journal agree to the following terms:
Authors retain copyright and grant the journal right of first publication with the work simultaneously licensed under a Creative Commons Attribution License that allows others to share the work with an acknowledgement of the work's authorship and initial publication in this journal.
Authors are able to enter into separate, additional contractual arrangements for the non-exclusive distribution of the journal's published version of the work (e.g., post it to an institutional repository or publish it in a book), with an acknowledgement of its initial publication in this journal.
Authors are permitted and encouraged to post their work online (e.g., in institutional repositories or on their website) prior to and during the submission process, as it can lead to productive exchanges, as well as earlier and greater citation of published work (See The Effect of Open Access).