EDUKASI MENENUN KEPADA ANAK SEKOLAH DASAR DI DUSUN BATANG PALLI, DESA SA'DAN TIROALLO
Keywords:
education,, preserving, woven cloth, Toraja, Sa'dan
Abstract
Toraja woven cloth is the work of the Toraja people. The weaving process can be lost if children are not given education about woven fabrics and how to make them. Their knowledge of how to make woven fabrics can inspire love and help the family's economy. The woven fabrics produced can be sold to the market or people in need. Based on the observations made, some children in Batang Palli hamlet know how to weave, but they do not do the weaving process. Others don't know how to weave, and they only know it as a parent's job. This is what encourages education for the children who are there. The method used in writing this article is qualitative with an ethnographic approach. From the education process, it can be seen that the children in Batang Palli hamlet are interested in weaving, only they do not have a good understanding of the cultural and economic values of woven fabrics. This activity is expected to increase the interest of children in the Batang Palli hamlet to preserve woven fabrics.
Downloads
Download data is not yet available.
References
Berliana, I Dewa Ayu Tresia, and Ida Bagus Putu Purbadharmaja. "DETERMINAN PENDAPATAN PERAJIN TENUN SONGKET DI KECAMATAN SIDEMEN KABUPATEN KARANGASEM." E-Journal Ekonomi Pembangunan 7, no. 12 (2018): 2580–2608. https://ojs.unud.ac.id/index.php/eep/article/view/41808.
Denzin, Norman K., and Yvonna S. Lincoln. "Pendahuluan: Memasuki Bidang Penelitian Kualitatif." In Handbook of Qualitative Research, edited by Saifuddin Zuhri Qudsy, translated by Dariyatno, Badrus Samsul Fata, Abi, and John Rinaldi. 1st ed. Yogyakarta: Pustaka Pelajar, 2009.
Hendraswati. "KALIMANTAN SELATAN PRODUCTION PROCESS , FUNCTION , ECONOMIC OPPORTUNITY , AND BUGIS WEAVING DEVELOPMENT KABUPATEN TANAH BUMBU." Handep: Jurnal Sejarah dan Budaya 1, no. 2 (2018): 35–58. http://handep.kemdikbud.go.id/index.php/handep/issue/view/6.
Indra, Rahman. "33 Kain Tradisional Ditetapkan Jadi Warisan Budaya." CNN Indonesia. Jakarta, 2017. Last modified 2017. Accessed October 14, 2021. https://www.cnnindonesia.com/gaya-hidup/20170824194938-277-237118/33-kain-tradisional-ditetapkan-jadi-warisan-budaya.
Leny Novianti, and Qomariah. Ringkasan Buku Metode Penelitian Survey. Pekanbaru, 2017. http://repository.uin-suska.ac.id/16745/1/Buku Metode Penelitian Survei Leny ringkas.pdf.
Mahsun. "Peran Bahasa Ibu Dalam Membangun Kebudayaan Daerah." Jurnal Online Internasional & Nasional 7, no. 1 (2019): 1689–1699. www.journal.uta45jakarta.ac.id.
Pratiwi, Ilda Olivia, St Aisyah, and Asiani Abu. Kajian Proses Pembuatan Kain Tenun Toraja Motif Paruki'. Makassar, 2018. http://eprints.unm.ac.id/11780/.
Sosang, Michael Frederick. "Proses Pembuatan Kain Tenun Pa'tannun Di Desa Sa'dan Kabupaten Toraja Utara Sulawesi Selatan." Universitas Negeri Makassar. Universitas Negeri Makassar, 2017. http://eprints.unm.ac.id/16823/.
Sudaryono. Metodologi Penelitian Kuantitatif, Kualitatif, Dan Mix Method. 4th ed. Depok: PT RajaGrafindo Persada, 2021.
Wahyuningsih, Wahyuningsih. "Pengenalan Warna Dan Bentuk Geometri Dengan Media Balok Pada Anak Usia 5-6 Tahun Di TK Pertiwi 2 Jeron Nogosari Boyolali." Jurnal Educatio FKIP UNMA 7, no. 2 (2021): 410–418.
Yoga Agustin, Dyah Satya. "Penurunan Rasa Cinta Budaya Dan Nasionalisme Generasi Muda Akibat Globalisasi." Jurnal Sosial Humaniora 4, no. 2 (2011): 177–185.
"Budaya." Kamus Besar Bahasa Indonesia. Kemendikbud, 2016. https://kbbi.web.id/budaya.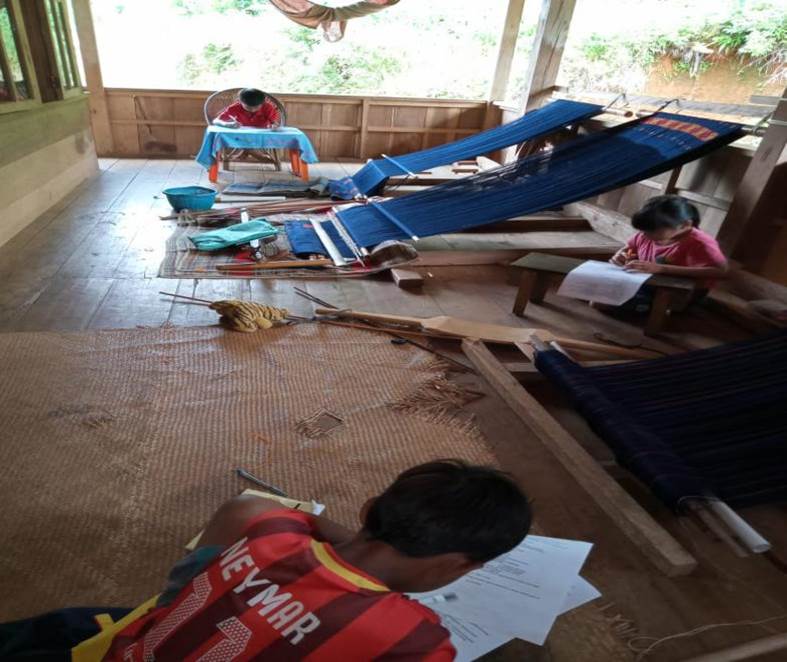 Downloads
How to Cite
Bora, L. N., & Bua, L. R. (2022). EDUKASI MENENUN KEPADA ANAK SEKOLAH DASAR DI DUSUN BATANG PALLI, DESA SA'DAN TIROALLO. Jurnal PKM Setiadharma, 3(1), 11–19. https://doi.org/10.47457/jps.v3i1.232
License
Copyright (c) 2022 Jurnal PKM Setiadharma
This work is licensed under a Creative Commons Attribution-ShareAlike 4.0 International License.
Authors who publish with this journal agree to the following terms:
Authors retain copyright and grant the journal right of first publication with the work simultaneously licensed under a Creative Commons Attribution License that allows others to share the work with an acknowledgement of the work's authorship and initial publication in this journal.
Authors are able to enter into separate, additional contractual arrangements for the non-exclusive distribution of the journal's published version of the work (e.g., post it to an institutional repository or publish it in a book), with an acknowledgement of its initial publication in this journal.
Authors are permitted and encouraged to post their work online (e.g., in institutional repositories or on their website) prior to and during the submission process, as it can lead to productive exchanges, as well as earlier and greater citation of published work (See The Effect of Open Access).