PELATIHAN WORSHIP LEADER, SINGER DAN MULTIMEDIA DI GPDI IMANUEL KAGUNGAN RAHAYU
Keywords:
worship leader, singer, multimedia, worship
Abstract
Worship is an important part of the Christian faith journey. In worship,
there are praise and worship which is very decisive in the success of
worship. To realize successful worship, it takes people who are capable
of leading worship such as worship leaders, and singers and the presence
of adequate multimedia support such as easy worship. However, many
churches do not yet have qualified ministers for these tasks, including
GPdI Imanuel Kagungan Rahayu. This public service aims to facilitate
and provide training to God's ministers in the church to improve the
quality of their services. This Public service is done by the training
method. The participants were very enthusiastic during the training and
followed the activity until the end. Participants can understand the
material provided and can practice it during practice sessions. After the
public service is done, worship leaders, singers, and multi-media
operators can apply the material that has been received in church
services with full responsibility
Downloads
Download data is not yet available.
References
Andreas. "Meningkatkan Peranan Pemimpin Pujian Dan Penyambahan Dalam Ibadah Kristiani." Penabiblos II, no. 1 (2011). https://e-jurnal.ukrimuniversity.ac.id/detail.php?id_konten=96&id_jurnal=4 &id_volume=23.
Edison, Thomas. 52 Metode Mengajar: Mengangkat Harkat Dan Martabat Pendidik Menjadi Berwibawa Dan Terhormat. Bandung: Kalam Hidup, 2017.
Kristanto, Purnawan. "Menggunakan Easyworship Untuk Ibadah Di Gereja." Kompasiana.Com. https://www.kompasiana.com/purnawan/54ff83fca33311ae5850fb8e/menggunakan-easyworship-untuk-ibadah-di-gereja.
Lidany, Jefri Wungowa dan Fandy Oktovines. "Pengaruh Pujian Dan Penyembahan Terhadap Pertumbuhan Jemaat." In Theos:Jurnal Pendidikan Agama dan Teologi 1, no. 1 (2021): 16–22.
Mahanani, Astika. "PERAN PUJIAN DAN PENYEMBAHAN DALAM IBADAH KEBAKTIAN KEBANGUNAN ROH TERHADAP JEMAATNYA DI GEREJA GBI KELUARGA ALLAH SURAKARTA." FAKULTAS SENI PERTUNJUKAN INSTITUT SENI INDONESIA SURAKARTA, 2014. http://repository.isi-ska.ac.id/126/1/Astika_Mahanani.pdf.
Refialy, Leonardo Petra, Danny Rande, and Gabriela Salhuteru. "Pemberdayaan Multimedia Bergereja Pada Pemuda Jemaat GPM Souhuru Melalui Pelatihan Software Easy Worship." Dinamisia : Jurnal Pengabdian Kepada Masyarakat 5, no. 3 (June 27, 2021): 659–664. https://journal.unilak.ac.id/index.php/dinamisia/article/view/7129.
Siringoringo, Januaster E., V. Mangadar Siringoringo, and Berton B. H. Silaban. "PENDAMPINGAN DAN PELATIHAN TIM MUSIK SONG LEADER GEREJA DI KECAMATAN MEDAN AMPLAS." Jurnal PKM Setiadharma 2, no. 3 (December 31, 2021): 151–159. http://localhost/testojs3308/index.php/pkm/article/view/205.
Wijaya, Hengki. "Kajian Teologis Tentang Penyembahan Berdasarkan Injil Yohanes 4:24." Jurnal Jaffray 13, no. 1 (March 16, 2015): 77. http://ojs.sttjaffray.ac.id/index.php/JJV71/article/view/112.
"Kamus Besar Bahasa Indonesia" (n.d.). https://kbbi.web.id/.
"Your Worship Service Made Easy." Easyworship.Com. https://www.easyworship.com/software/download.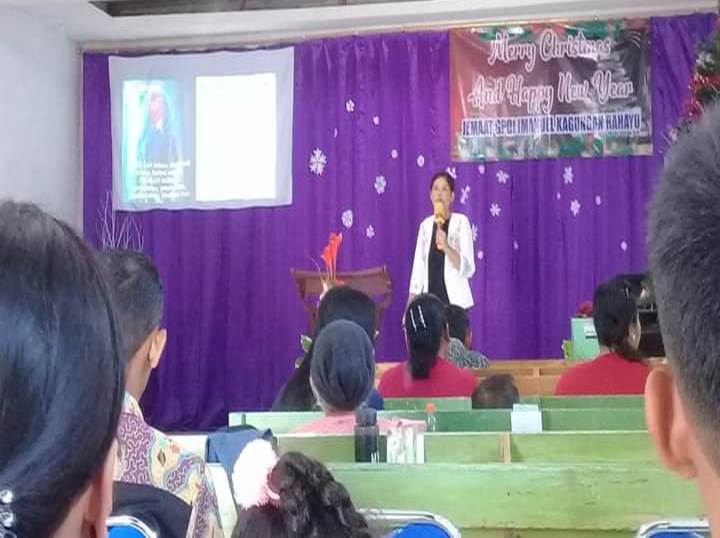 Downloads
How to Cite
Ritonga, N., & Marbun, S. (2022). PELATIHAN WORSHIP LEADER, SINGER DAN MULTIMEDIA DI GPDI IMANUEL KAGUNGAN RAHAYU. Jurnal PKM Setiadharma, 3(1), 20–30. https://doi.org/10.47457/jps.v3i1.235
License
Copyright (c) 2022 Jurnal PKM Setiadharma
This work is licensed under a Creative Commons Attribution-ShareAlike 4.0 International License.
Authors who publish with this journal agree to the following terms:
Authors retain copyright and grant the journal right of first publication with the work simultaneously licensed under a Creative Commons Attribution License that allows others to share the work with an acknowledgement of the work's authorship and initial publication in this journal.
Authors are able to enter into separate, additional contractual arrangements for the non-exclusive distribution of the journal's published version of the work (e.g., post it to an institutional repository or publish it in a book), with an acknowledgement of its initial publication in this journal.
Authors are permitted and encouraged to post their work online (e.g., in institutional repositories or on their website) prior to and during the submission process, as it can lead to productive exchanges, as well as earlier and greater citation of published work (See The Effect of Open Access).