SOSIALISASI DAMPAK NEGATIF GADGET TERHADAP KEHIDUPAN ROHANI ANAK DUSUN PAYOK DESA LAMOANAK KECAMATAN MENJALIN
Keywords:
child, gadget, impact, spiritual
Abstract
Technological developments cannot be avoided by humans but must be followed. One that is very familiar in society is gadgets. A gadget is an object that anyone in carrying out their activities needs. It is not only adults who use gadgets; children also know how to operate gadgets well. Gadgets are very useful for anyone who use them, but they will have a good impact if users can be controlled properly, especially in the spiritual development of children. Payok Hamlet, Lamoanak Village, Menjalin District, Landak District, and West Kalimantan were the research locus. The method used in this research is a survey method, in which researchers go directly to the field to make observations. After making new observations, communication and outreach to the community were carried out. The negative impact of gadgets on children's spiritual growth has begun to be felt by children in this hamlet. Oneway parents can so that their children are not too dependent on gadgets is that parents must have much time with their children so that time to use gadgets for the children will be reduced the negative impact of gadgets can be avoided as much as possible.
Downloads
Download data is not yet available.
References
Alawiyah, Desi, Mulkiyan Muh. Erwin. "Problematika Dan Pendampingan Anak Yang Mengalami Gangguan Gadget." Jurnal Media Intelektual Muslim dan Pembangunan Rohani 8, no. 1 (2021): 36–53.
Chusna, Puji Asmaul. "Pengaruh Media Gadget Pada Perkembangan Karakter Anak." Dinamika Penelitian: Media Komunikasi Sosial Keagamaan 17, no. 2 (2017): 315–330.
Marpaung, Junierissa. "Pengaruh Penggunaan Gadget Dalam Kehidupan." Jurnal Kopasta 5, no. 2 (2018): 55–64.
Pangastuti, Ratna. "Fenomena Gadget Dan Perkembangan Sosial Bagi Anak Usia Dini." Ijiece Vol. 2 (2017): 165–174.
Pardede, Ratna, and Sri Watini. "Dampak Penggunaan Gadget Pada Perkembangan Emosional Anak Usia Dini Di TK Adifa Karang Mulya Kota Tangerang." Jurnal Pendidikan Tambusai 5 (2021): 4728–4735.
Pebriana, Putri Hana. "Analisis Penggunaan Gadget Terhadap Kemampuan Interaksi Sosial." Jurnal Obsesi : Jurnal Pendidikan Anak Usia Dini 1, no. 1 (2017): 1–11.
Setianingsih, Eka Sari. "GADGET ' PISAU BERMATA DUA ' BAGI ANAK ? GADGET ' PISAU BERMATA DUA ' BAGI ANAK ?" In Seminar Pendidikan Nasional, 397–405. Universitas PGRI Semarang, n.d.
Siyoto, Sandu, and M. Ali Sodik. Dasar Metodologi Penelitian. Yogyakarta: Literasi Media Publishing, 2015.
Sunita, Indian, and Eva Mayasari. "PENGAWASAN ORANGTUA TERHADAP DAMPAK PENGGUNAAN GADGET PADA ANAK." Endurance 3, no. 38 (2018): 510–514.
Sutarsih, Tri, Vera Citra Wulandari, Rima Untari, Adam Luthfi Kusumatrisna, and Atika Nashirah Hasyyati. Statistik Telekomunikasi Indonesia 2021. Badan Pusat Statistik, 2021.
Uce, Loeziana. "The Golden Age: Masa Efektif Merancang Kualitas Anak." Jurnal Pendidikan Anak 1, no. 2 (2017): 77–92.
Widiawati. Pengaruh Penggunaan Gadget Terhadap Daya Kembang Anak. Jakarta: Universitas Budi Luhur, 2014.
Alkitab Terjemahan Baru. Jakarta: Lembaga Alkitab Indonesia, 2019.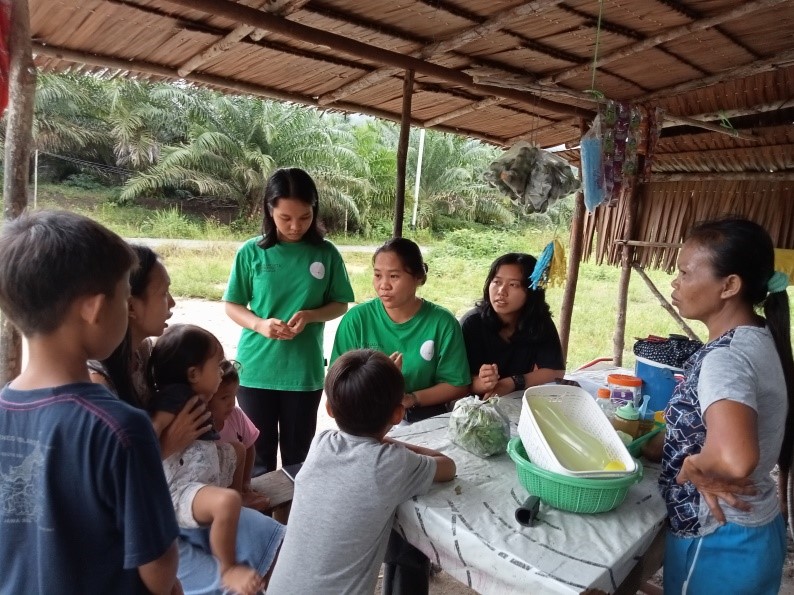 Downloads
How to Cite
Gulo, Y. K., Zalukhu, N. ., & Saogo, S. N. (2022). SOSIALISASI DAMPAK NEGATIF GADGET TERHADAP KEHIDUPAN ROHANI ANAK DUSUN PAYOK DESA LAMOANAK KECAMATAN MENJALIN. Jurnal PKM Setiadharma, 3(3), 147–156. https://doi.org/10.47457/jps.v3i3.297
License
Copyright (c) 2022 Jurnal PKM Setiadharma
This work is licensed under a Creative Commons Attribution-ShareAlike 4.0 International License.
Authors who publish with this journal agree to the following terms:
Authors retain copyright and grant the journal right of first publication with the work simultaneously licensed under a Creative Commons Attribution License that allows others to share the work with an acknowledgement of the work's authorship and initial publication in this journal.
Authors are able to enter into separate, additional contractual arrangements for the non-exclusive distribution of the journal's published version of the work (e.g., post it to an institutional repository or publish it in a book), with an acknowledgement of its initial publication in this journal.
Authors are permitted and encouraged to post their work online (e.g., in institutional repositories or on their website) prior to and during the submission process, as it can lead to productive exchanges, as well as earlier and greater citation of published work (See The Effect of Open Access).