PENDAMPINGAN REMAJA PEREMPUAN AGAR MENGHINDARI PERNIKAHAN DINI DI JEMAAT GKSI SYALOM UNSE
Keywords:
adolescent girl, early marriage, the importance of education
Abstract
Adolescence is the right time for them to pursue education. Education is very important for teenagers because, through education, their potential can grow. However, it is very sad when teenagers who should focus on learning and pursuing their dreams instead fall into early marriage. The biggest factor in the number of early marriages in the GKSI Syalom Unse congregation is the lack of education. This is caused by parents and children who do not understand the urgency of education itself. This PKM aims to provide understanding and awareness to teenagers to avoid early marriage and provide education on the importance of education. Thus, this PKM program has implications for the need to increase the age of marriage to a more mature age, both in terms of mental, educational, and economic aspects. The method used in accommodating the discussion of early marriage is the lecture method. However, in preparing the material using a qualitative approach with descriptive methods. The results of the implementation of this activity went smoothly and were well responded to by the participants. This activity helps teenagers understand the dangers of early marriage and increases their enthusiasm for studying higher knowledge.
Downloads
Download data is not yet available.
References
Adam, Adiyana, 'DINAMIKA PERNIKAHAN DINI', Al-Wardah: Jurnal Kajian Perempuan, Gender Dan Agama, 1, 2019
Bahriyah, Fitriyani, Sri Handayani, and Andari Wuri Astuti, 'PENGALAMAN PERNIKAHAN DINI DI NEGARA BERKEMBANG : SCOPING REVIEW Experience of Early Marriage In Developing Countries : Scoping Review', Midwifery and Reproduction, 4.2 (2021), 94–105
Dini, Vina Febriaani Nurhelita, Agi Yulia Ria, 'Hubungan Pengetahuan Remaja Putri Tentang Pendewasaan Usia Perkawinan Terhadap Risiko Pernikahan Usia Dini', Jurnal Kesehatan, 11.1 (2020), 50–59
Kunratih, Retno, 'Dampak Pernikahan Dini Terhadap Keberlangsungan Rumah Tangga ( Studi Kasus Di Kecamatan Gemawang ) Pendahuluan', Citra Ilmu, XV (2019), 11–26
Limbong, Mesta, and Evi Deliviana, 'Penyuluhan Dampak Pernikahan Dini Bagi Perempuan', Jurnal Comunita Servizio, 2 (2020), 321–29
Manurung, Taufik Hidayat, Nuri Prasuci, Suci Pranasari, and Rima Aprilia, 'Upaya Pengenalan Pentingnya Pendidikan Dan Dampak Pernikahan Dini Pada Anak Di Rumah Cerdas Anak Perempuan (CAPER) Desa Danau Sijabut', Jurnal Pendidikan, Sejarah, Dan Ilmu-Ilmu Sosial, 5.1 (2021), 118–22
Maudina, Lina D, 'Dampak Pernikahan Dini Bagi Perempuan', Jurnal Harkat : Media Komunikasi Gender, 15.2 (2019), 89–95
Mujiburrahman, M, and Rudi Hariawan, 'Manajemen Mitigasi Bencana Pada Satuan Pendidikan Anak Usia Dini Untuk Pengurangan Risiko Bencana Gempa Bumi Dan Tsunami Disaster Mitigation Management in Early Childhood Education Units for Disaster and Earthquake Disaster Risk Reduction', Jurnal Penelitian Dan Pengkajian Ilmu Pendidikan E-Saintika, 4.1 (2020), 68–79
Pusat, Penerapan, Informasi Dan, Konseling Remaja, Andi Marlah, Susyanti Akbar, Dinas Pengendalian, and others, 'STRATEGI PENCEGAHAN PERNIKAHAN USIA DINI MELALUI DI SMK NEGERI 1 BULUKUMBA EARLY MARRIAGE PREVENTION STRATEGY THROUGH THE IMPLEMENTATION OF PUSAT INFORMASI DAN KONSELING REMAJA ( PIK-R ) AT SMK NEGERI 1 BULUKUMBA', Jurnal Adimistrasi Negara, 26 (2020)
Rangga, Oktavianus, and Bobby Kurnia Putrawan, 'Peran Orangtua Dalam Mendidikan Anak Remaja : Suatu Perspektif Etika Kristen', SERVIRA: Jurnal Pengabdian Kepada Masyatakat, 1.2 (2021), 75–86
Susyanti, Andi Marlah, and Halim Halim, 'Strategi Pencegahan Pernikahan Usia Dini Melalui Penerapan Pusat Informasi Dan Konseling Remaja (Pik-R) Di Smk Negeri 1 Bulukumba', Jurnal Administrasi Negara, 26.2 (2020), 114–37 <https://doi.org/10.33509/jan.v26i2.1249>
Syalis, Elprida Riyanny, and Nunung Nurwati, 'Analisi Dampak Pernikahan Dini Terhadap Psikologis Remaja', Jurnal Pekerjan Sosial, 3 (2020), 29–38
Wirabumi, Ridwan, Sekolah Pascasarjana, Universitas Ibn, and Khaldun Bogor, 'Metode Pembelajaran Ceramah', Annual Conference On Islamic Education And Thought, I.I (2020), 105–13
Yastirin, Pintam Ayu, 'Persepsi Remaja Tentang Pernikahan Usia Anak', Journal For Quality in Women' Health, 2.1 (2019), 43–49 <https://doi.org/10.30994/jqwh.v2i1.27>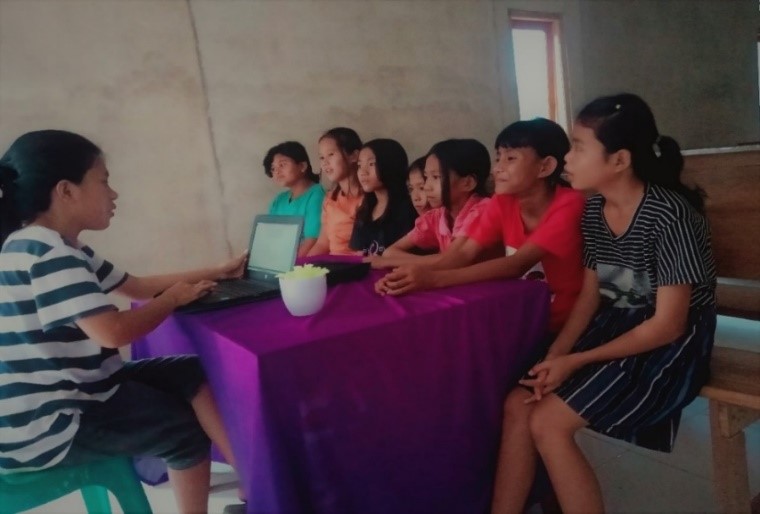 Downloads
How to Cite
Gulo, S. C., & Bilo, D. T. (2022). PENDAMPINGAN REMAJA PEREMPUAN AGAR MENGHINDARI PERNIKAHAN DINI DI JEMAAT GKSI SYALOM UNSE. Jurnal PKM Setiadharma, 3(3), 157–165. https://doi.org/10.47457/jps.v3i3.308
License
Copyright (c) 2022 Jurnal PKM Setiadharma
This work is licensed under a Creative Commons Attribution-ShareAlike 4.0 International License.
Authors who publish with this journal agree to the following terms:
Authors retain copyright and grant the journal right of first publication with the work simultaneously licensed under a Creative Commons Attribution License that allows others to share the work with an acknowledgement of the work's authorship and initial publication in this journal.
Authors are able to enter into separate, additional contractual arrangements for the non-exclusive distribution of the journal's published version of the work (e.g., post it to an institutional repository or publish it in a book), with an acknowledgement of its initial publication in this journal.
Authors are permitted and encouraged to post their work online (e.g., in institutional repositories or on their website) prior to and during the submission process, as it can lead to productive exchanges, as well as earlier and greater citation of published work (See The Effect of Open Access).