PELATIHAN PENGGUNAAN MICROSOFTT OFFICE WORD, POWERPOINT, EXCEL 2010 DAN GMAIL DI SMA ARASTAMAR AIR UPAS
Keywords:
covid-19, microsoft office, training, senior high school
Abstract
SMA Arastamar is the only high school currently in the Air Upas area, Air Upas District, Ketapang Regency, West Kalimantan. In this area SMA Arastamar was founded by the Servant of God. This high school is under the SABAS Foundation. The presence of this school is to improve human resources in the region. Based on the results of observations made to class XII science and social studies students, there were students who were less active in carrying out their duties. This happened because the learning process transmigrated into distance learning or better known as PJJ as a result of Covid-19. Covid-19 and forcing students to be able to use computer technology properly and correctly. Making assignments that had to be made in Office Word, PowerPoint and Excel did not go well, due to the lack of understanding of children in operating these devices, and not only that, students also had to be able to use Gmail to send assignments that were There is. With the existing observations, the authors are encouraged to conduct community service training for class XII students majoring in Science and Social Studies at Arastamar High School in order to improve the quality of students in information technology-based education.
Downloads
Download data is not yet available.
References
DERMAWAN, DENI. 2012. PENDIDIKAN TEKNOLOGI INFOMRASI DAN KOMUNIKASI. Edited by ADRIYANI KAMSYACH. BANDUNG: PT. REMAJA ROSDAKARYA.
Irmayani, and Andi Mangnguntungi Sudirman. 2019. "Pengembangan Sumber Daya Manusia Melalui Pelatihan Microsoft Office Pada Aparat Desa Di Kecamatan Lamasi Timur Kabupaten Luwu Provinsi Sulawesi Selatan." Abdimas Toddopuli: Jurnal Pengabdian Pada Masyarakat 1, no. 1: 20–27.
Joesyiana, Kiki. 2018. "Penerapan Metode Pembelajaran Observasi Lapangan (Outdor Study) Pada Mata Kuliah Manajemen Operasional (Survey Pada Mahasiswa Jurusan Manajemen Semester III Sekolah Tinggi Ilmu Ekonomi Beserta Persada Bunda)." PeKA: Jurnal Pendidikan Ekonomi Akuntansi FKIP UIR 6, no. 2: 90–103.
Nasional, Undang-undang Sistem Pendidikan. 1982. "Introduction and Aim of the Study." Acta Pædiatrica 71: 6–6. https://doi.org/10.1111/j.1651-2227.1982.tb08455.x.
Rivaldi. 2020. "Macam-Macam Versi Microsoft Office Dan Sejarah Perkembanganya." 04 Maret. 2020.
Ryan, Cooper, and Tauer. 2013. "BAHAYA COVID-19 DI DESA PUCANGAN." Paper Knowledge . Toward a Media History of Documents 1, no. 2: 12–26.
Sahir, Syafrida Hafni. 2021. Metodologi Penelitian. Edited by Try Koryati. 1st ed. Bantul: KBM Indonesia. https://repositori.uma.ac.id/jspui/bitstream/123456789/16455/1/E-Book Metodologi Penelitian Syafrida.pdf.
Sakti, Bayu Purbha. 2020. "Pelatihan Mengaplikasikan Gmail Dan Ymail Untuk Calon Guru Sekolah Dasar." Humanism : Jurnal Pengabdian Masyarakat 1, no. 3: 199–207. https://doi.org/10.30651/hm.v1i3.5695.
Sari, Lili Indah, Wishnu Aribowo Probonegoro, Supardi Supardi, and Parlia Romadiana. 2021. "Peningkatan Kualitas SDM Melalui Pelatihan Penggunaan Teknologi Informasi Di Desa Air Anyir." Jurnal Abdidas 2, no. 3: 597–602. https://doi.org/10.31004/abdidas.v2i3.322.
Sari, Melani Kartika. 2020. "Sosialisasi Tentang Pencegahan Covid-19 Di Kalangan Siswa Sekolah Dasar Di SD Minggiran 2 Kecamatan Papar Kabupaten Kediri." Jurnal Karya Abdi 4, no. 1: 80–83.
Septiani, Indri, and Palupi Lindiasari Samputra. 2021. "Analisis Pengaruh Kebijakan Pembelajaran Jarak Jauh (PJJ) Akibat Dampak Pandemik Covid-19 Terhadap Motivasi Belajar Peserta Didik." Jurnal Sains Sosio Humaniora 5, no. 1: 240–49. https://doi.org/10.22437/jssh.v5i1.14131.
Yudi Firmansyah, and Fani Kardina. 2020. "Pengaruh New Normal Ditengah Pandemi Covid-19 Terhadap Pengelolahan Sekolah Dan Peserta Didik." Buana Ilmu 4, no. 2: 99–112. https://doi.org/10.36805/bi.v4i2.1105.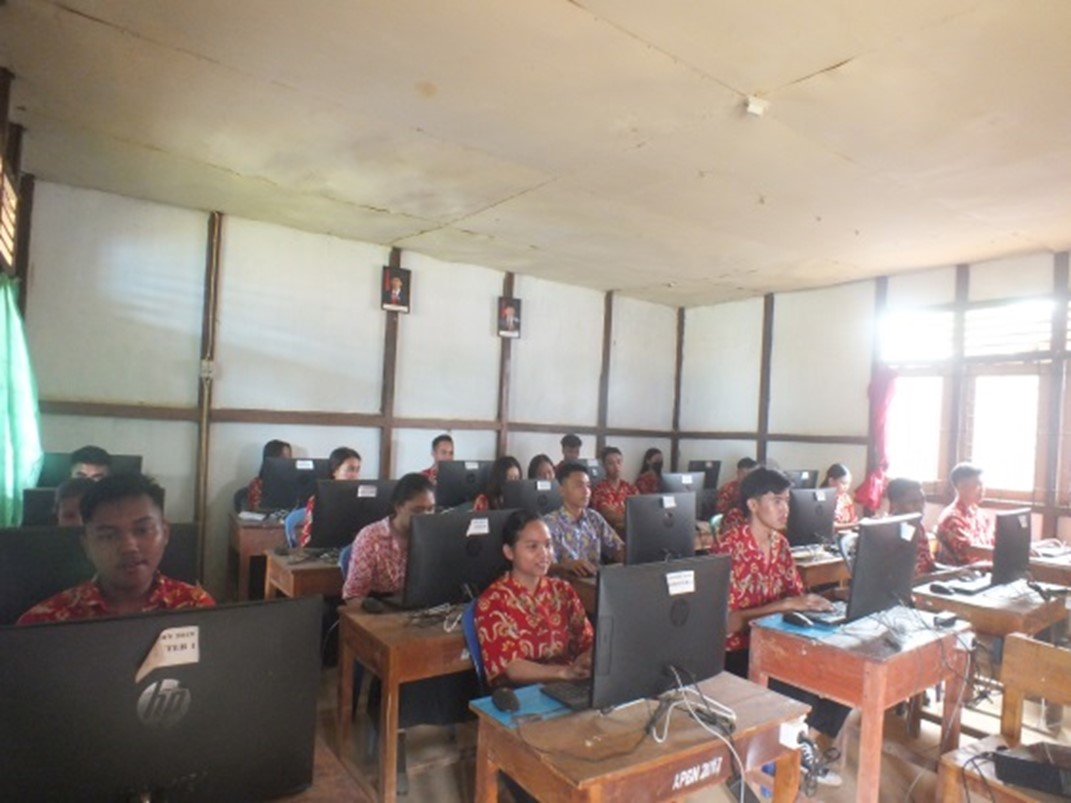 Downloads
How to Cite
Aswan, A. (2023). PELATIHAN PENGGUNAAN MICROSOFTT OFFICE WORD, POWERPOINT, EXCEL 2010 DAN GMAIL DI SMA ARASTAMAR AIR UPAS. Jurnal PKM Setiadharma, 4(2), 80–89. https://doi.org/10.47457/jps.v4i2.347
License
Copyright (c) 2023 Jurnal PKM Setiadharma
This work is licensed under a Creative Commons Attribution-ShareAlike 4.0 International License.
Authors who publish with this journal agree to the following terms:
Authors retain copyright and grant the journal right of first publication with the work simultaneously licensed under a Creative Commons Attribution License that allows others to share the work with an acknowledgement of the work's authorship and initial publication in this journal.
Authors are able to enter into separate, additional contractual arrangements for the non-exclusive distribution of the journal's published version of the work (e.g., post it to an institutional repository or publish it in a book), with an acknowledgement of its initial publication in this journal.
Authors are permitted and encouraged to post their work online (e.g., in institutional repositories or on their website) prior to and during the submission process, as it can lead to productive exchanges, as well as earlier and greater citation of published work (See The Effect of Open Access).