SEMINAR PENINGKATAN EKONOMI JEMAAT MELALUI BISNIS ONLINE DI PARSAHUTAON PGRI CISAUK, TANGERANG
Keywords:
congregation, economy, online business, Parsahutaon, seminar
Abstract
This article is a report on community service through a Seminar about increasing congregations' economic through online business. The seminar was conducted for the members of Pasahutoan Gotorong Imanuel at Cisauk as the action of sharing ideas for the goodness of each member.  The community service was conducted through a seminar with discourse and discussion methods. The media was PowerPoint and TV Screens.  The purpose of this report is reference for increasing the congregation's economy through online business. The method is qualitative research with a literature study. It started by collecting literature such as a recent journal. The analytic method is content analysis. Analytic results display descriptive. The result is the seminar has impacted the member to start and continue their online business.
Downloads
Download data is not yet available.
References
Astuti, Rini, Delyana Rahmawany Pulungan, M. Firza Alpi, and Sudirman Lubis. 2020. "LITERASI MEDIA SOSIAL SEBAGAI PELUANG BISNIS ONLINE BAGI IBU RUMAH TANGGA MENDUKUNG PENDAPATAN RUMAH TANGGA." Ihsan: Jurnal Pengabdian Masyarakat, April (April). https://doi.org/10.30596/ihsan.v2i1.5152.
Baktiono, R. Agus, and I. Putu Artaya. 2016. "MEMILIH MEDIA SOSIAL SEBAGAI SARANA BISNIS ONLINE MELALUI PENDEKATAN UJI CATEGORICAL." E-Jurnal Manajemen Kerja 2, no. 2.
Dwinanda, Januariska Bayu. 2018. "Efektivitas Komunikasi Pemasaran Personal Selling Pada Agrowisata Kampung 99 Pepohonan." Jurnal Komunikasi Pembangunan 16, no. 2. https://doi.org/10.46937/16201825639.
Fadli, Muhammad Rijal. 2021. "Memahami Desain Metode Penelitian Kualitatif." HUMANIKA 21, no. 1 (April): 33–54. https://doi.org/10.21831/hum.v21i1.38075.
Fakhrudin, Arif, Kifni Yudianto, and You She Melly A.D. 2021. "Word of Mouth Marketing Berpengaruh Terhadap Keputusan Kuliah." FORUM EKONOMI 23, no. 4 (November): 648–57. https://doi.org/10.30872/jfor.v23i4.10111.
Hanum Nst, Farida. 2019. "BISNIS ONLINE INDONESIA MENARIK MINAT KALANGAN MUDA." Jurnal Bisnis Corporate 4, no. 1. https://doi.org/10.46576/jbc.v4i1.460.
"Hootsuite (We Are Social) Indonesian Digital Report 2020.Pdf." n.d.
Joesyiana, Kiki. 2019. "PENGGUNAAN MEDIA ONLINE SHOP DALAM BISNIS PADA WIRAUSAHA WANITA." VALUTA 5, no. 2: 65–80.
Keneer, Craig S. 2015. The IVP Background Bible Commentary: New Testament. Illinois: IPA Academic.
Khodijah, and Rennyta Yusyana. 2021. "PENGGUNAAN TELEMARKETING DALAM MENINGKATKAN JUMLAH PELANGGAN INDIHOME (Studi Kasus Pelanggan Terkendala Jaringan PT. Telkom Indonesia Witel Riau Daratan Tahun 2021)." E-Proceeding of Applied Science 7, no. 5: 1066–70.
Lily Anita, Tiurida, and Nurul Sukma Lestari. 2020. "KONSEP BRAND STORYTELLING, VALUE PERCEPTIONS DAN VISIT INTENTION PADA KAWASAN TUJUAN WISATA DI JAKARTA." Jurnal IPTA 8, no. 2 (December): 281. https://doi.org/10.24843/IPTA.2020.v08.i02.p13.
M. Fathrezza Imani, M. Khoirul Fikri, and Almas Filzah. 2022. "PENGARUH KREATIF, INOVASI DAN STRATEGI PEMASARAN TERHADAP PENINGKATAN DAYA BELI KONSUMEN." Jurnal Ilmu Manajemen, Ekonomi Dan Kewirausahaan 2, no. 1 (March): 117–38. https://doi.org/10.55606/jimek.v2i1.160.
Miles, Matthew B., and A. Michael Huberman. 2014. Qualitity Data Analysis. 3rd ed. London: Sage Publisher.
Nata Saputra, Yudha. 2022. "Metode Pembelajaran Pendidikan Agama Kristen: Pendekatan Literatur Review." Andragogi: Jurnal Diklat Teknis Pendidikan Dan Keagamaan 10, no. 2 (December): 177–86. https://doi.org/10.36052/andragogi.v10i2.293.
Nikmah, Farika. 2017. "KAJIAN TENTANG PEMASARAN ONLINE UNTUK MENINGKATKAN PELUANG BISNIS." Adbis: Jurnal Administrasi Dan Bisnis 11, no. 1 (July): 47. https://doi.org/10.33795/j-adbis.v11i1.19.
Pranajaya, Nadiya Kumalasari, and Reza Saeful Rachman. 2022. "Strategi Komunikasi Copywriter Dalam Pemasaran Konten (Analisis Studi Kasus Di Instagram Napak Jagat Pasundan)." Buana Komunikasi (Jurnal Penelitian Dan Studi Ilmu Komunikasi) 3, no. 2 (December): 83. https://doi.org/10.32897/buanakomunikasi.2022.3.2.1685.
Priowirjanto, Enni Soerjati. 2022. "PENDAMPINGAN KEGIATAN BISNIS ONLINE PADA UMKM DI DESA CIBURIAL-KECAMATAN CIMENYAN-KABUPATEN BANDUNG." JKBH 4, no. 2. https://ejournal.lintasbudayanusantara.net/index.php/jkbh/article/view/12.
Putri, Aurelia Salsabila, and Zakaria. 2022. "ANALISIS PEMETAAN E-COMMERCE TERBESAR DI INDONESIA BERDASARKAN MODEL KEKUATAN EKONOMI DIGITAL." Seminar Dan Konferensi Nasional IDEC 2020, November (November).
Seran, Esra. 2022. "PERANAN MEDIA PEMBELAJARAN PENDIDIKAN AGAMA KRISTEN TERHADAP PENINGKATAN MINAT BELAJAR ANAK/SISWA." Inculco Journal of Christian Education 2, no. 3: 255–67.
Situmeang, Rositan Romauli. 2018. "DAMPAK BISNIS ONLINE DAN LAPANGAN PEKERJAAN TERHADAP PENINGKATAN PENDAPATAN MASYARAKAT (STUDI KASUS JASA BISNIS ONLINE TRANSPORTASI GRAB DI KOTA MEDAN)." Asian Jurnal of Innovation and Entepreneurship (AJIE) 3, no. 3: 319–35.
Sodogoron, Iwan. 2018. "Upaya Peningkatan Ekonomi Masyarakat Melalui Pengembangan Usaha Agribisnis Pedesaan (PUAP) Di Desa Hanopan Kecamatan Arse Kabupaten Tapanuli Selatan." JURNAL MUQODDIMAH : Jurnal Ilmu Sosial, Politik Dan Hummaniora 2, no. 2 (August): 101. https://doi.org/10.31604/jim.v2i2.2018.101-115.
Widiyawati, Lilis. 2016. "PERAN SISTEM DROPSHIP, MEDIA SOSIAL, DAN POTENSI KEUNTUNGAN DALAM MENINGKATKAN MINAT WIRAUSAHA DARING (ONLINE) (STUDI PADA MAHASISWA FAKULTAS EKONOMI DAN BISNIS UNIVERSITAS BRAWIJAYA MALANG)." Jurnal Mahasiswa FEB 4, no. 2. https://jimfeb.ub.ac.id/index.php/jimfeb/article/view/2947.
Wiranto, Muhammad Iqbal Adi, and Lilis Sugih Rahayu Ningsi. 2022. "Strategi Penjualan Melalui Reseller Dan Dropshipper Pada Toko 'Gudang Keramik' Surabaya Dalam Kondisi Pandemi Covid-19." BIMA 5, no. 1. https://doi.org/10.33752/bima.v5i1.454.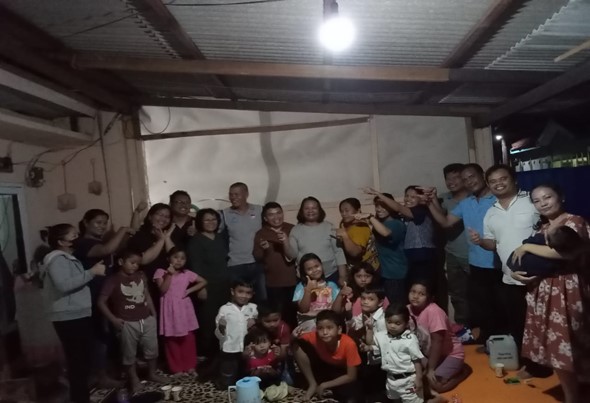 Downloads
How to Cite
Marbun, T. O. (2023). SEMINAR PENINGKATAN EKONOMI JEMAAT MELALUI BISNIS ONLINE DI PARSAHUTAON PGRI CISAUK, TANGERANG. Jurnal PKM Setiadharma, 4(2), 100–109. https://doi.org/10.47457/jps.v4i2.370
License
Copyright (c) 2023 Jurnal PKM Setiadharma
This work is licensed under a Creative Commons Attribution-ShareAlike 4.0 International License.
Authors who publish with this journal agree to the following terms:
Authors retain copyright and grant the journal right of first publication with the work simultaneously licensed under a Creative Commons Attribution License that allows others to share the work with an acknowledgement of the work's authorship and initial publication in this journal.
Authors are able to enter into separate, additional contractual arrangements for the non-exclusive distribution of the journal's published version of the work (e.g., post it to an institutional repository or publish it in a book), with an acknowledgement of its initial publication in this journal.
Authors are permitted and encouraged to post their work online (e.g., in institutional repositories or on their website) prior to and during the submission process, as it can lead to productive exchanges, as well as earlier and greater citation of published work (See The Effect of Open Access).